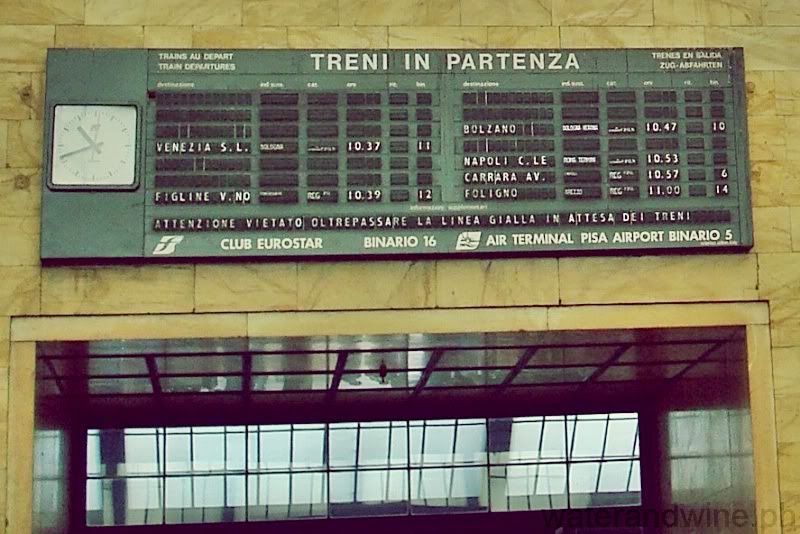 leaving the train station in Florence
Perfect plan, so far.
When we got there, we stepped out of the train station and immediately saw our hotel. it's just right across the station! As in, you can see it as soon as you step out. Great!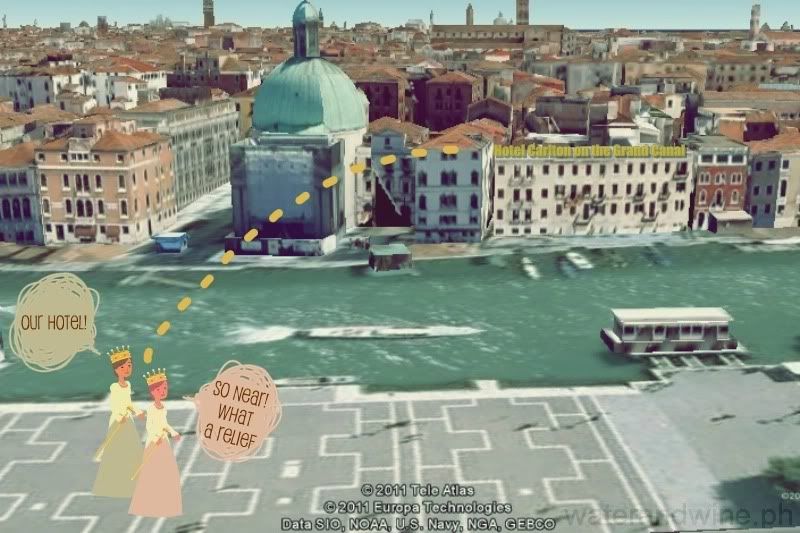 actual photo of Venice from Google Earth 3D
You know how Venice has canals instead of roads right? We just had to cross the canal separating the hotel from the station to get there. How? To the left of Santa Lucia station is the Scalzi Bridge. Just go over it and it's done. Sounds easy!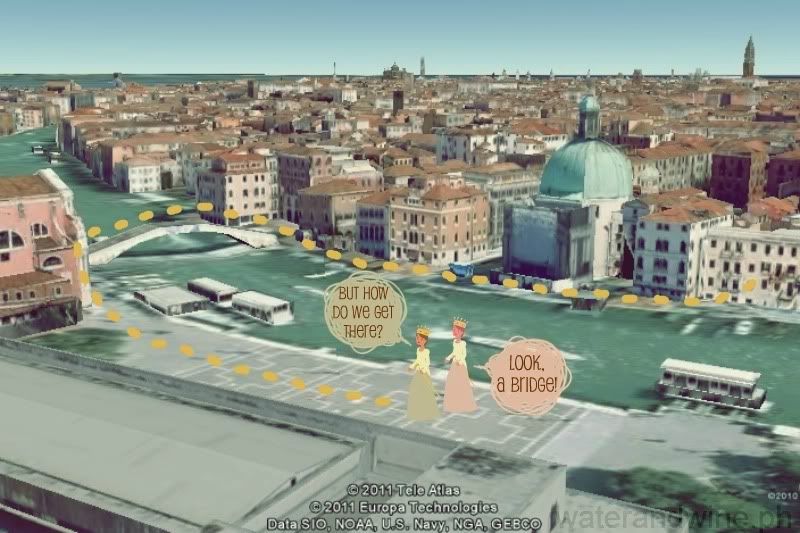 actual photo of Venice from Google Earth 3D
When we got to the foot of the Scalzi Bridge, we realized that we have huge suitcases with us. And they are not light. Each of us had a suitcase weighing at least 25 kilos, and a carry-on duffel weighing at least 8 kilos. How on earth can we carry these over the bridge? There must be an escalator somewhere. A lot of tourists arrive the station everyday and I'm pretty sure a lot of them must go over this bridge with their luggage. They cannot NOT have one right?
Well they don't. To cut the long story short, we had to carry our luggage up and down the Scalzi. Rolling the luggage on their wheels is just impossible. We had to use both hands to lift the whole luggage weight ourselves. The whole time. After the luggage, we had to go back for our duffel. (Carrying both at the same time is suicide so we had to do it one by one, add to that, someone must be on both ends to watch out for our stuff.)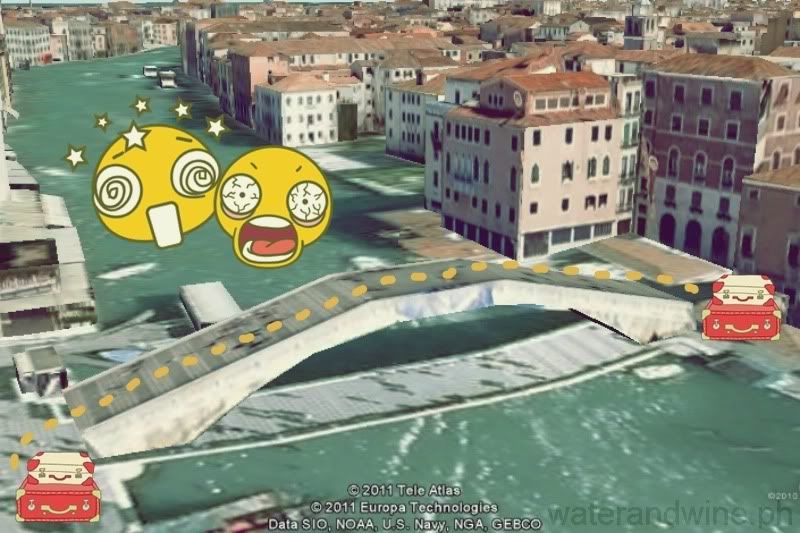 actual photo of Venice from Google Earth 3D
And mind you, the Scalzi bridge is not a low one.
photo of the Scalzi Bridge from pgoh13.com
Hotel with easy access from the train station, failed. Look at how relieved Macy was when we reached our hotel. Haha.
We stayed at Hotel Carlton on the Grand Canal. Back then, we paid our travel agency in Manila US$368 per person for a 3d2n-stay, and that already includes free breakfast and the fee for the Original Venice Walking Tour that we booked. We checked the prices now and it's already 360 euros per room per night. The hotel rooms, although small, are lovely and very Venetian. But still. We almost died getting there.
Going back to the station after 3 days is another story. Our friends didn't want to do the same luggage-over-Scalzi episode again so they paid 60 euros just to hire a water taxi that will take them and their luggage across the canal back to the station. We, being our close-fisted selves, refused to pay that amount and decided to do a part 2. The second time we did it felt so much better than the first one because we prepared ourselves for it. We left 30 minutes ahead of our friends and that gave us enough time to do everything slowly. Haha.
It was during this time of the year, late September, when we went to Venice. The rest of Italy were still sunny and a bit warm, so we expected Venice weather to be just a bit colder.
NOT.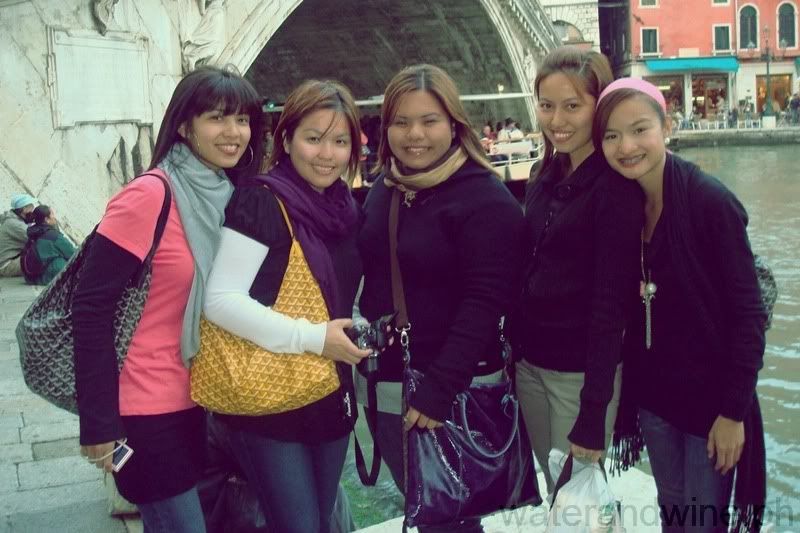 we only had light jackets and scarves! Waah!
Anyway, we gathered our creativity in putting together mismatched pieces to come up with warm-enough-layered outfits. Haha. Karol decided to go all black so it won't be too noticeable how much layers she had on. She was wearing a black tank, a black shirt over it, and another black longsleeves over everything else. The black pashmina shawl helped too. Macy wore an inner, a black long-sleeved top, a t-shirt, and a gray pashmina.
We spent the whole afternoon of our first day shopping for clothes because we wouldn't have survived if we wore the light clothes we brought. Haha. Solved! Now ready to brave the cold weather the next day.
Remember we booked a Venice tour through our agent in Manila? We had only 3 days to spend and it is said that if you have time to do only one tour in Venice, then this is definitely the one. We were given a meeting time and meeting point where the tour will start. The meeting point is somewhere in Piazza San Marco. We checked the map and we thought "Tss, that's not too far from our hotel. Look at the map, it's like what, 3 inches away? We can leave the hotel 30 minutes before the meeting time".
It's okay, even if we got there on time, it'll be a fail, still. Because... it rained. Walking Tour-ers, that's what you get for leaving ussssss! Haha!!
the house where Mozart lived while he's in Venice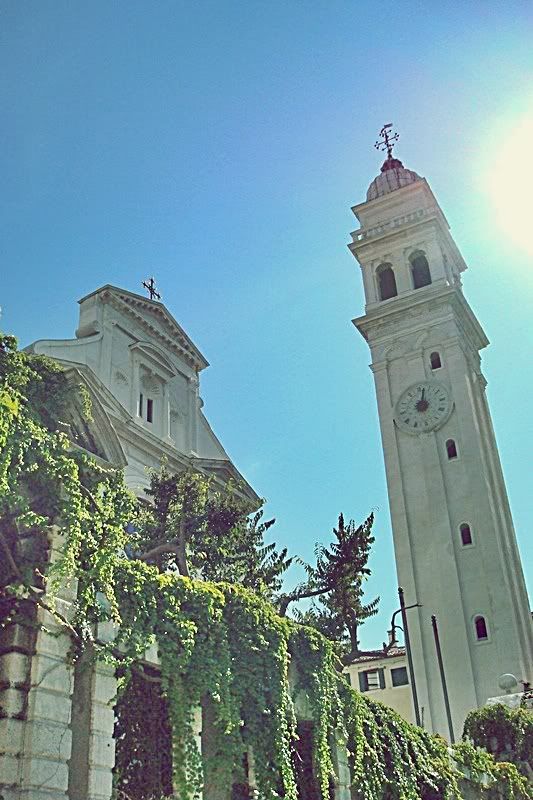 the Greek orthodox cathedral of San Giorgio dei Greci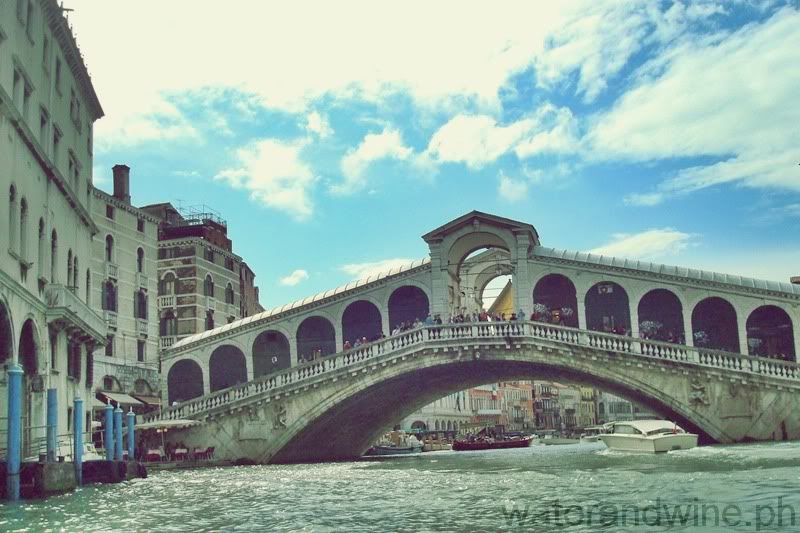 the Rialto Bridge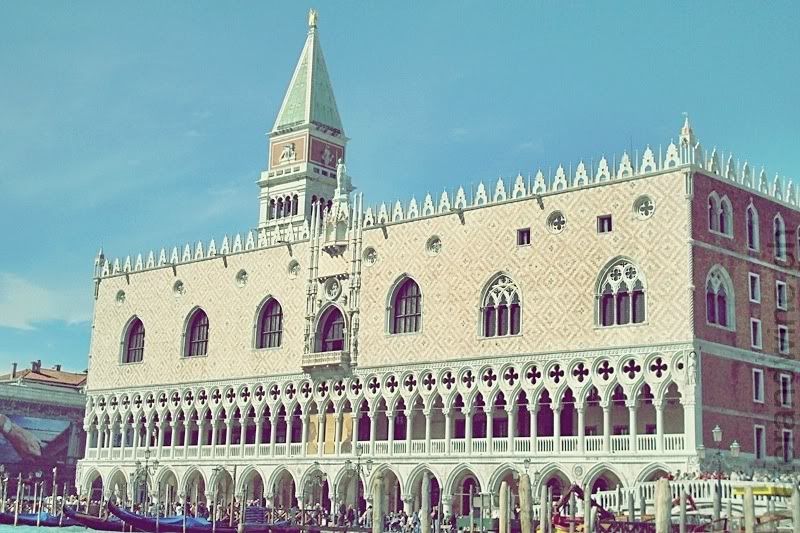 Doge's Palace or Palazzo Ducale
one of the canals in Venice
view of the Grand Canal from the Rialto Bridge