When choosing for accommodations in Coron Palawan, you have three choices: 1) stay at one of the non-beachfront (sad) hotels in Coron town proper, 2) stay at a beachfront villa in one of the islands with electricity running on generator only 12 hours a day (super sad), or 3) stay at a beachfront villa with electricity, 24/7 (hooray) in Club Paradise.
Obviously, when we went to Coron, we both decided to stay in Club Paradise. We went separately, one year apart, but had the same wonderful experience!
Club Paradise is an island resort in the 19-hectare Dimakya Island. Its package is already inclusive of everything. As soon as we reached the Busuanga Airport, they picked us up for a 30-minute ride through the Yulo King Ranch.
Their porters took care of our luggage. This may sound shallow to many, but for people like us who carry rolling trunks and not duffel bags, this is like gold.
We were warmly welcomed by the staff, and were offered welcome drinks!
We both booked a beachfront cottage and it was fine. Don't expect for a Shangri-la (we didn't pay for a Shangri-la anyway hahaha) but it's good enough! It is spacious at around 30 square meters, you have your own balcony, and... a hammock (yey)!!
Beachfront cottages resemble a typical bahay-kubo, and are spaced far apart so you really have privacy. And yes, we can be our noisy selves without distracting other guests.
Now here's the best part. Let the pictures speak for themselves.
We both went during the peak season, and even if the resort was fully-booked, we barely saw other guests on the beach. It felt like we own the whole place!
They also have a pool and it's nothing extraordinary, but it's well-maintained and clean.
All buffet meals during our stay were already included in the package. We expected for beach food, like grilled fish, prawns, etc (you know what we mean) but we were kind of disappointed because they served western food most of the time. We completely understand though, because we noticed that they have a foreign market (we saw only a few Filipinos in the resort) and they probably wanted to serve a "safe" selection of food. This is the resort's dining area where they set-up the buffet.
The resort offers tour packages around the island of Coron. It is quite pricey compared to other tour operators, but at least you still get the topnotch Club Paradise service even while outside the resort. If you avail tours from them, they will send their staff with you to make your tour sooooo convenient. The staff will help you with your things, they will pack your supposedly buffet meal from the resort, and prepare everything for you to ensure you have everything you need. We availed of some of the tours and we were surprised that we were assigned to the same guide, Kuya Noel!
Kuya Noel carrying Karol's bag (he offered, owwwkayy?)
Kuya Noel on the boat giving Macy a tour!
Club Paradise is really really worth your money. If ever we go back to Coron someday, we will stay in Club Paradise again, no doubt!
Here are some more photos taken at the resort. Enjoy! =)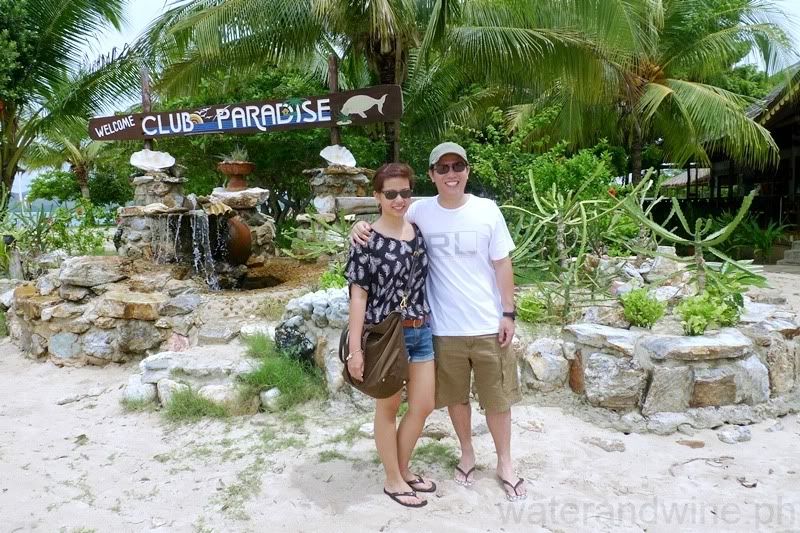 Macy before leaving Club Paradise
amazing view from the dining hall
the map of the island
Karol after playing in the sand
lovely view of the sunset from the cottage