You have no idea how much respect we have for backpackers and how much we look up to them. Because we can't, for the life of us, imagine how we'd make it alive if we were to go backpacking.
We know traveling backpacking-style is a better way of getting oneself immersed in a country's culture, and can give you unique experiences that you won't get in traditional travel.
It's just that... it's really not for everyone. We are part of that
everyone
. Don't get us wrong, we are not extravagant travelers either. Remember
we don't even fly business class
? But, our idea of a vacation is one that is at least convenient. Relaxing. Enjoyable. Pure fun. Unlike some people, we don't have the luxury of traveling for 4 or 5 or 6 months straight. We can't just leave our lives in the Philippines in a snap. When we go out of the country, it's usually just for a few days, a week, or 1 month max. That's why we always want our short vacation to at least be comfortable and leisurely before we go back to chaotic Manila.
According to Wikipedia, backpacking combines the activities of hiking and camping in backcountry wilderness. Backpacking is a term that has historically been used to denote a form of low-cost, independent international travel. The factors that traditionally differentiate backpacking from other forms of tourism include but are not limited to the following: use of public transport as a means of travel, preference of youth hostels to traditional hotels, length of the trip vs. conventional vacations, use of a backpack, an interest in meeting the locals as well as seeing the sights.
Erik Cohen notes that even though one of the primary aims of backpacking is to seek the authentic, the majority of backpackers spend most of their time
interacting with other backpackers
.
Based on that definition, here are 12 reasons why we can never be backpackers.
1. We don't even own a backpack.
2. Even if we own a 'real' backpack, all our stuff won't fit in it.
Unless they make a really really huge kind. But even if manufacturers come up with an extra gigantic backpack, we still probably won't be able to carry it on our backs without tipping over.
When we had an overnight trip to Hong Kong, this is what we brought with us. Imagine what we'd bring if it's a 4-day trip, or... a month. Like what we always say... Why travel light, when you can travel NOT light? Hahaha Okay that's nonsense but you get the idea.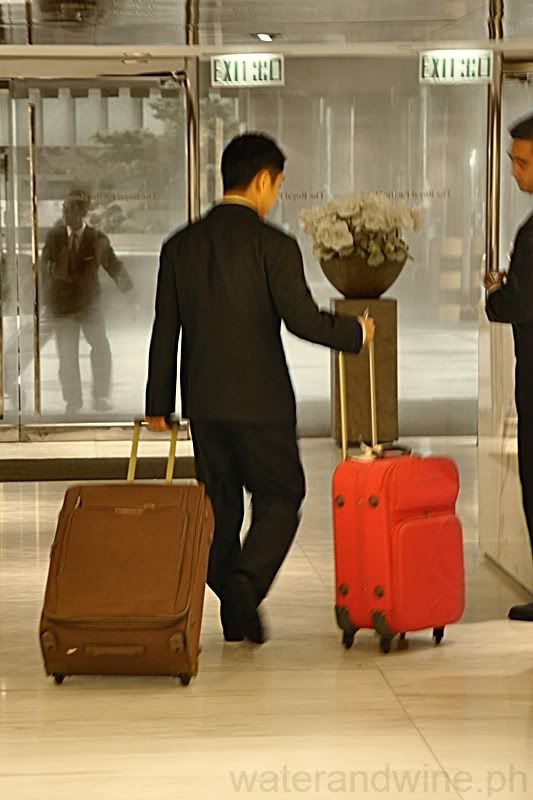 Hong Kong Overnight Luggage
3. Even if there's a huge backpack that can fit all our stuff that we can carry without making us tip over, we're gonna need one more.
And no it's already impossible for us to bring two. When we travel, we always leave home with almost overweight baggage and for some unexplainable reason, just like magic, we accumulate even more little things that eventually make our luggage weight double. Remember our fear of paying for excess baggage charges? Well, we solve them by sending home some stuff ahead of us. If we were to go backpacking, it's either we carry boxes like these around, or we send one home like, every two weeks.
"Extra" stuff from London, with Love
Macy working on the monogram hahaha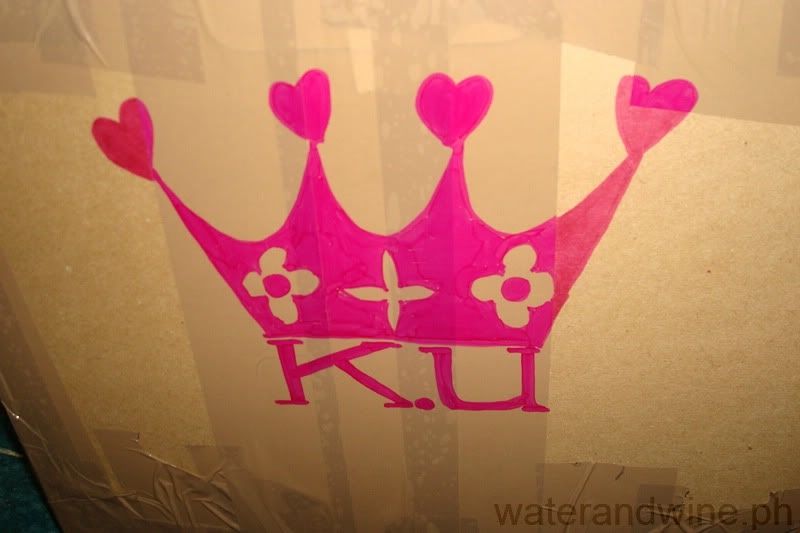 The guy from the shipping company said this is the most colorful box he ever picked up from customers.
4. The term Camping will be put to shame.
We have a ridiculous idea of how camping should be. Macy thinks camping means bringing a Disney Princess pop-up tent (no assembly required), a matching Disney Princess sleeping bag, and a pink foldable camping chair. Even if we'd love to go camping with you, we're not sure if you'd love to go camping with us.
5. The term Hiking will be put to shame.
Karol once joined her friends in hiking the Taal Volcano. She wore a pink tiara and a pink leather boa... and no, we're not joking.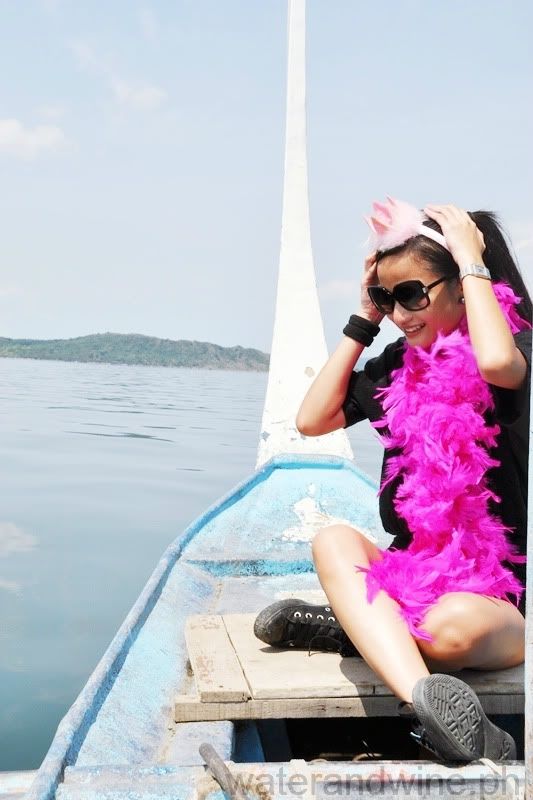 Karol on the boat in the middle of Taal Lake
After the hike, Karol swore she'd never go to any place that starts with the letters MT again.
Ever.
6. We don't own a pair of serious shoes.
Y'know... the sporty, durable, all-weather, take-anywhere kind. When Karol went hiking, she even borrowed a pair of Chucks from her 10-year old niece. If she didn't, she'd be hiking in black patent ballet flats.
We don't mind walking for hours as long as we don't sweat. Once we start sweating, we slowly transform into monsters. That's why we stay away from strenuous activities, or whatever it is that requires too much energy. Haha.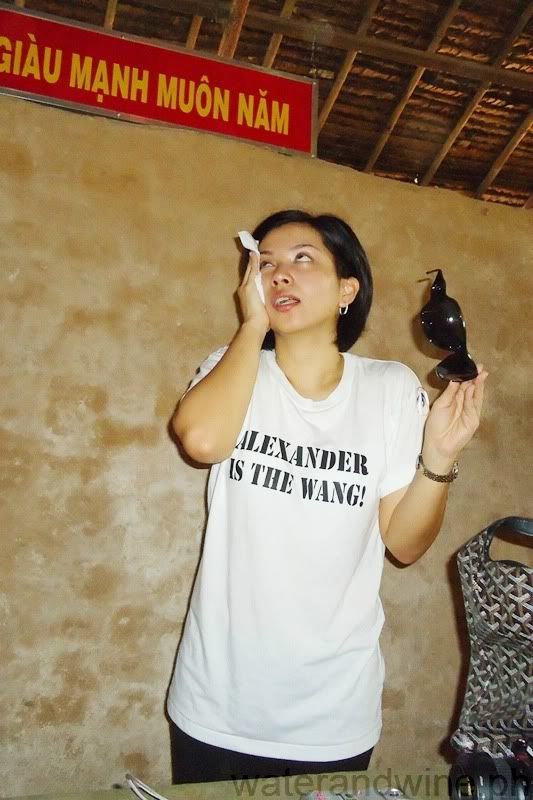 Macy after going inside the tunnels of Cu Chi
Us with friends about to die under the Roman sun
8. For everyone's good, we can't stay in hostels.
Everyone will probably kick us out. It takes us a long time to use the bathroom, so imagine how it will be like if the whole hostel floor share a bathroom. Aside from that, our equally paranoid parents won't let us. When we went to London to study, we initially booked a dorm/hostel type of accommodation and Macy's dad freaked out. He thinks we'll get murdered. He said if we'll be staying in a hostel, he won't allow us to go. Blame the movies!! We told her dad that we can't afford to stay in a hotel for a long period of time so he said "Okay, okay... I'll pay for whatever is the price difference between that hostel you booked and a hotel." We had no choice... without arguing, we said "Okay po, hotel it is." (deep inside we're screaming HOOORAYYY WE'LL STAY IN A HOTEL THE WHOLE TIMEEEE YEAH YEAH)
9. Public Transport is never a Plan A. It is ALWAYS the Plan B.
If we have a choice, we'd take a private car over any means of public transport, any time. If we can afford it, a private car with a driver is definitely the way to go.
Macy, our driver Kasem, and 'our' car in Dubai
While most people would take the train from London to Paris, we would choose to fly. We have issues with train rides and long bus rides. This is probably because we just want to get from point A to point B pronto. We travel for short periods of time, remember?
We can't be backpacker-spontaneous. We have to have a plan laid out, with everything pre-arranged. Not hour by hour, but at least day by day.
We have to know the exact dates we're flying in, and when we're flying out. We have to have all air tickets and hotel vouchers that we'd be needing for a trip, otherwise our plans won't come to life. If we don't pre-arrange everything before leaving Manila, we won't get anywhere. Our lazy asses would be stuck in whatever city we flew in. We once planned to go to Switzerland, but because we didn't buy tickets ahead of time, we ended up sleeping and eating. Great plan.
Switzerland Fail
12. We don't talk to strangers.
The lesson they taught us in preschool kinda got stuck inside our brains. If interacting with locals and other backpackers is 10 points in a backpacking test, we'd probably get only 1 point. Yes, we'd fail. No, we're not un-friendly, it's just that we're paranoid. We'd talk to people, smile at them, say hi, have small chitchats, but it will never go beyond that. It will never reach the point that we'd go for night-outs in clubs or bars drinking with them, or even further, explore another city with them. When we joined a cruise for example, we were assigned to a table together with two guy friends and two girl friends. We spent every dinner laughing and chatting with them, but we never joined them for after-dinner drinks or any cruise activity outside our dinner table. The other four, on the other hand, got really close to each other that by the time the cruise is about to end, they were already having issues with each other. HAHA. I guess our inhibitions are also partly because we were raised in Manila where trust is something you don't give easily to strangers. We all hear about stories of crimes everyday - rape, kidnapping, murder. Since the

Budol-budol gang

became famous, we permanently inscribed the lesson Don't talk to strangers in our heads. When in an unfamiliar place, after all, it's better safe than sorry.