Last night, Macy sent Karol an SMS that said "Read
Chuvaness
."

The blog has an entry about two Filipina friends who went to Bali to celebrate their birthdays, and got harassed by the airport officers accusing them of drug trafficking. Why are we bothered? It's because we're leaving for Bali in three weeks. Just like them, we are two friends going there to celebrate Macy's birthday.
My Traumatic Experience as an Alleged DRUG TRAFFICKER in Bali Indonesia
By Chyng Reyes
For first time readers..
My name is Chyng Reyes. I graduated with a degree of Electronics and Communications Engineering in a state university in Intramuros. I work in a BPO company in MoA complex as part of Systems Development team. Im a blogger who frequently travels. And Im an individual who has never taken prohibited drugs.
First things first. Should we cancel our trip? We really felt bad for what these two girls had to go through, but we admit that the first thing that really got into our heads was if we should still go to Bali. We already did mental notes about which bookings are refundable in case we decide against it, and luckily for us our only non-refundable air tickets are those from Manila to Jakarta and back… which is also not a problem, because we purchased travel insurance that covers flight cancellations or no-shows (yes it is always advisable to get travel insurance). We booked our hotel through our agent and fortunately for us (again), we chose the flexible rate versus the book-and-buy rate. So, we can cancel those too, any time.
Thus, we can forget about the whole trip without much hassle on our part but the real question is... Do we really wanna cancel it? When we got to talk on the phone, our conversation went like this:
Karol: What do we do? I asked for other people's opinions.




Macy: What did they say? Good or bad? Anyway… I DON'T WANNA CANCEL IT.




Karol: I knoooooooowwwwww!!! Me too!!! Because we booked a really nice villa...




Macy: ...and they will welcome us with flowered leis and drinks




Karol: ...and they will welcome us with the sound of a gong.
So yeah we asked a few people this morning and here's what they had to say:

"

After hearing about the story, I feel paranoid for you guys. Especially that you are both girls, just like them. But if you really wanna go, it's fine with me too. Just be extra careful and if anything bad happens, we'll fly there right away." -Karol's boyfriend

"Well... your Tita Beth keeps on going back to Bali. Her daughter even got married there. I never heard about them having any problems. Maybe it's just a random thing." -Karol's mom



"I also heard about a drug incident in Bali involving an Australian model. Maybe that's their random profiling. Just take care!"

-

Macy's boyfriend

"Ohmygod… That is so sad… Anyway princess (she calls us princesses that's why we love her) I think it's okay if you go. There are lots of Filipino tourists who go to Bali every day and this is the first time I heard something like this… so maybe they were just unlucky. It's just probably an isolated case." –Tita Zor, our travel agent "I won't be surprised if things like that happen because it is said that drugs in South East Asia are sourced from the Philippines."- Macy's Brother

Hooray we're still going!!! Everyone kinda approved.

Here are some of our thoughts regarding the issue: Do not generalize. We, of all people, must know this. We also come from a corrupt country and we've heard about numerous cases of foreigners getting harassed by our officials. But we wouldn't want them to say "Don't go to Manila ever", right? Like what we would always say, Manila is full of fraudsters and thugs who know nothing but to trick other people, but not everyone is like that. There are millions more who are hospitable and warm. Our officers might have milked money out of tourists, but it is not always the case. We can bash some of them, but to bash the whole country is just wrong. That is why whenever we get asked if it is safe to go to the Philippines because the TV always shows the wars in Mindanao, we always reply with "The Philippines is a beautiful country. Just like anywhere else, you only have to be careful." So for Indonesia, we will give you a second chance. Please don't disappoint us.

Not because a bunch of Indonesians are rude, it makes the rest of them rude. We are all individually different, regardless of what group we belong to. We call them racist for automatically assuming Filipinas as drug traffickers, but wouldn't it make us racist too if we say "Indonesians are not nice"? Maybe some of them are, but definitely not all of them in general. We made friends with an Indonesian server at the cruise we had last year and he is the funniest, nicest guy ever.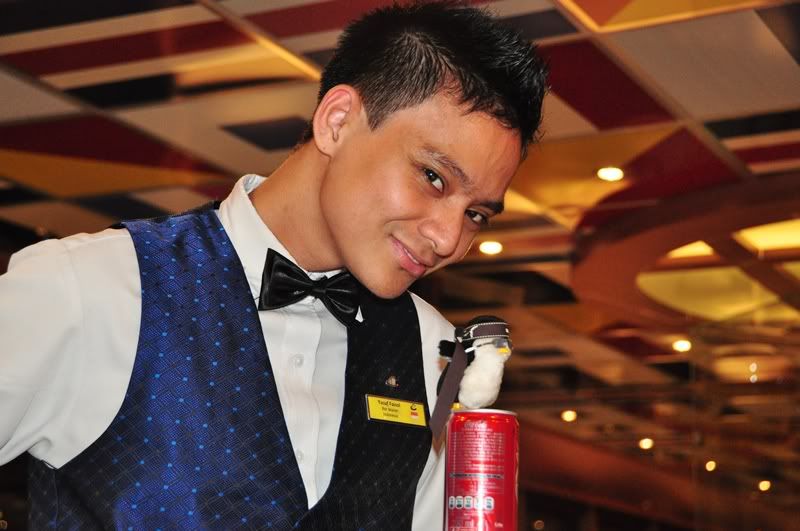 Yusuf with our pet penguin, Chuppy. He is from Central Java.
Yusuf: Do you have kids?
Macy and Karol: Yess!!
Yusuf: Really????
Macy and Karol: We'll introduce you to our baby... Chuppy! (we took Chuppy out of our bag)
Yusuf: Aggghh! I know I'm Krayzeeh but I dunno anymorr who's krayzier, me or you!!
 
Maybe they are just doing their job. We know it is unfair for us to be likely suspects of drug trafficking but what can we do? There REALLY are lots of drug trafficking cases involving Filipinos. After the 9/11 Twin Towers attack, weren't all airports extremely suspicious of Osama-bin-Laden-looking peeps? It must've been stressful for them too, but everyone then were just cautious of not letting anything awful happen again. If during that time you were seated with an Osama look-a-like on the plane, wouldn't you wish he was thoroughly checked too?

When we, Macy and Karol, arrived Los Angeles from Mexico, the US Immigration officer interrogated Karol with questions like "Are you carrying US$10,000 with you?". Karol was so flattered she kept on asking Macy if she looked like the sosh type who carries wads of $$ with her hahaha. Macy would just reply "Heller, they ask that randomly". In that case, are we supposed to rejoice that the US officers think we Filipinos carry around tons of cash? Nope. They were simply doing their job. The only difference is that carrying $10,000 doesn't sound so bad compared to carrying kilos of heroin. As long as your conscience is clear, the best thing you can do is to just cooperate with them.
Our own share of hold ups in different places:
Italy
In 2007 we took a train ride from Rome to Florence via TrenItalia. We swear it was a 2 hour and a half ride that felt like forever. There were 5 of us, all girls, and we occupied two compartments. We were seated in one compartment together with another friend Cara, while our two other friends Lyd and Krishna, were in a different compartment. As soon as the train left Rome, a bunch of young Italian frat boys started harassing us. They would open our compartment's sliding glass door and puff out the marijuana they were smoking (i know right) into our compartment. They would shut the door immediately after. Hotbox galore for us. They would bang the glass doors non-stop, open it, touch our friend's face, etc. They would touch their Willies in front of us, and start pretending to have a "hand party". Macy took her hair iron out of her carry-on and said "Pag um-attack talaga itong mga 'to, ihahampas ko sa ulo nila to", to which Karol replied "bahala ka, pag nasira yang plantsa mo, kulot ang buhok mo for the rest of the trip." Macy kept the hair iron immediately and brought out her super teeny tiny almost-useless Swiss knife instead. HAHA. Everyone on the train were just WATCHING not giving a shit. We tried to ask for help from the officer on board but he didn't even bother. He just walked around as if nothing is wrong. Our two other friends in the other compartment were already quietly crying. They did all that the whole effin time. We couldn't do anything because we were scared that those boys are spoiled rotten sons of Italian mafia members and filing a police report will just be useless. All we did was to just wait for the train ride to be over and get out of that cursed train car asap.
Did we hate the Italians? Those boys, yes. But the others, nope. Did we ride TrenItalia again? Yes. Did we go back to Italy after that? Yes.

Manila
In 2008, Karol arrived in Manila from Macau. Her luggage was "randomly" checked at the customs where they found a shiny new Louis Vuitton Vernis Alma which Karol bought from Macau. The NAIA customs officer demanded for a receipt and Karol was left with no choice. The officers did a few calculations based on the receipt and required her to pay a total of PhP24,000 for tax -- P19,000 for the purse, and P5000 for the bag charm (they found out about it after seeing the receipt). Karol explained that it was just a souvenir (nice try), for personal use (which really is, by the way), and that she does not, in any way, intend to resell the purse. They insisted Karol to pay the fee or she cannot have the bag back. We will not tell you anymore what happened next, but we're sure you know what they wanted.
Did we hate all the NAIA officers? That particular customs officer, yes. But the rest, nope. Did we take home designer purchases from abroad again? Yes. Did it stop us from departing and arriving in NAIA? No.
Macy's trip to
Israel
with her mother was another one for the books. It was the first time that they were interviewed separately regarding their luggage. They were asked to describe their luggage (color/brand/make), if they were the ones who packed and locked their luggage, if they were travelling with a group/on a tour. After which she was brought to the basement of the airport (as in the airport's bodega) where all the luggages were, and was asked to identify their luggage and if nothing has changed with the lock and its appearance. Then when it was all clear, they were allowed to board. They went through the same process going home (Tel Aviv to
Hong Kong
).
Hongkong
Karol and Macy went to Hong Kong with 3 other girl friends Lyd, Cara and Krishna. While checking in for their flight going home (Hong Kong to Manila), Cara was questioned as to why her eyes were so red. She said they just got irritated. The officer said, "This is not to discriminate you but your race is prone to Sore Eyes" and she was asked to proceed to the airport physician to get checked. Result was she indeed had Sore Eyes and wasn't allowed to fly. We left Hong Kong without her and she was only able to fly back home after more than a week.
What we're trying to say is that... it can happen anywhere. Even in our own country. That's the real world. Yes it is always advisable to be extra cautious, but don't let incidents like these stop you from exploring the unfamiliar.
To Chyng and Dyan, you are both brave and you both did well in handling the situation. We hope that experience won't stop you from traveling again, doing what you love to do. =)
To the Indonesian Government, hello hello!! We'll be there in three weeks!! Just wanna let you know that we're not taking any kind of prohibited drugs with us. The 20kg baggage allowance is not even enough for our clothes and shoes (roll eyes), so we definitely won't be bringing kilos and kilos of heroin. Please be nice and we promise we'll be nice too! =)