We all have different needs and requirements when choosing what luggage to buy. Some would go for giant-but-light practical backpacks, while some would go all out with designer trunks. Let's just say... we're somewhere in between.
When choosing a travel luggage, we consider two main things. First, the color must be yummy. We don't want it to be just one of those black bags in the carousel. Second, it must be light. Yes we're scared of excess baggage. Durability, price, and everything else come next to that.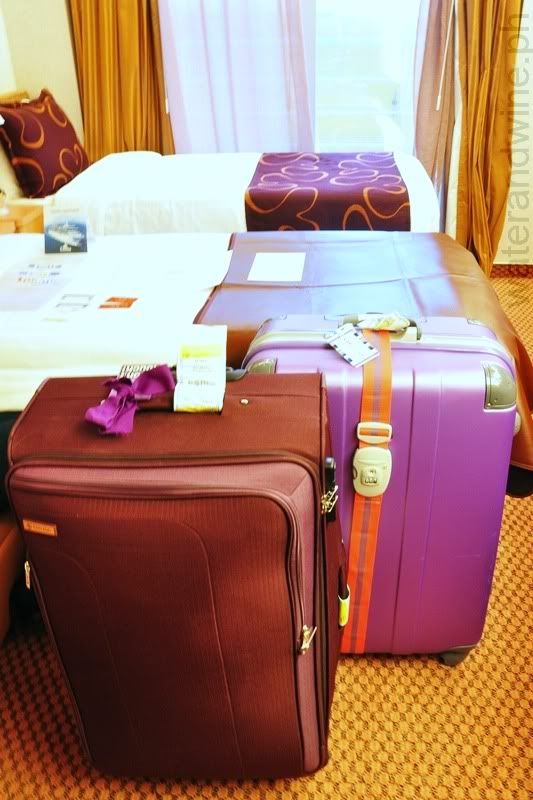 Our old purple maletas

We were so tempted to get the purple Salsa Air

Rimowa

s since we-don't-know-when. It's exactly what we need! It's purple, it's light, it's chic, it's durable, and relatively affordable compared to Goyard trunks!
But... we thought we're not worthy because we NEVER fly business class. We thought it'd look so odd to be walking around the budget airline terminal towing a Rimowa, just like how odd it is to carry Lanvin while riding the FX colorum in Makati (okay maybe we're just hypercritical). After so many discussions and brainstorming, we gave up the idea of getting one.
Until... we got to ask our friend Jiro (who lives in Germany, birthplace of Rimowa) about it. We told him that Economy class and Rimowa don't go well together, but he said it's completely okay! Because Rimowa is just like standard issue for Germans! Everyone uses it! Hooray!
Fast forward to Adora Greenbelt 5, we found ourselves getting our Salsas! Yihaaa!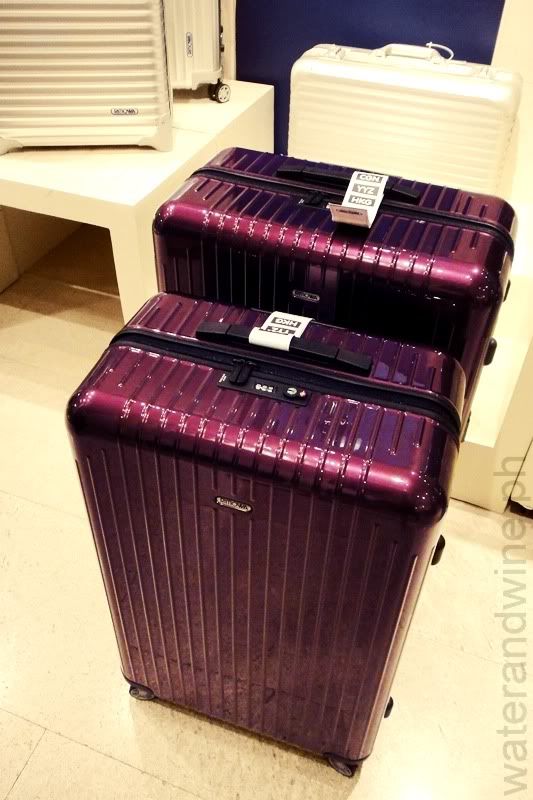 Karol's size 70 and Macy's size 77
the distinct Rimowa ridges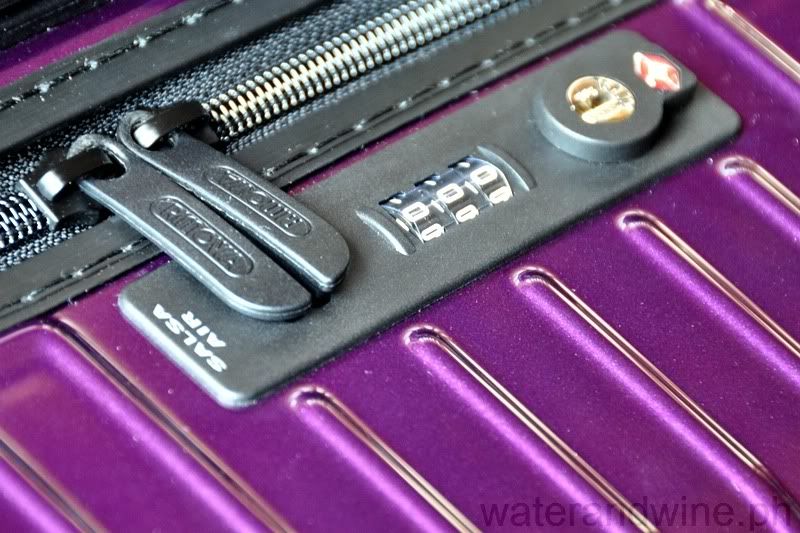 countersunk combination lock with ABUS TSA cylinder, whatever that means
wala lang. we just love the tag.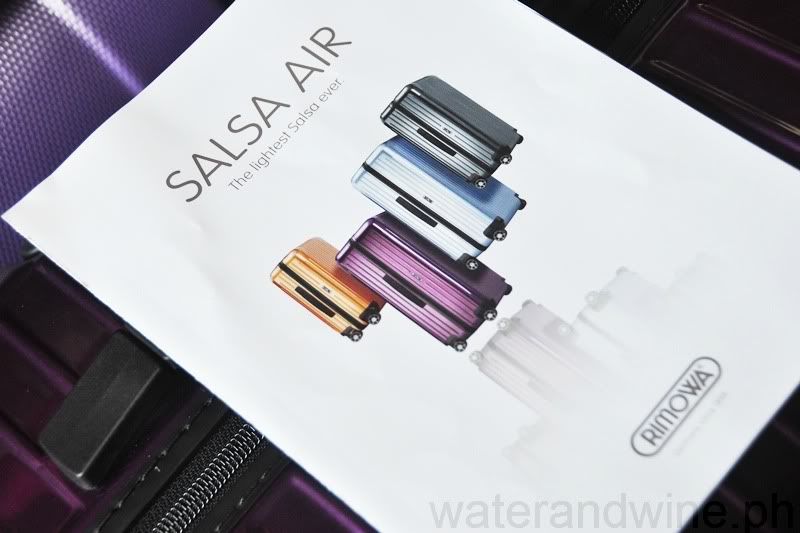 Rimowa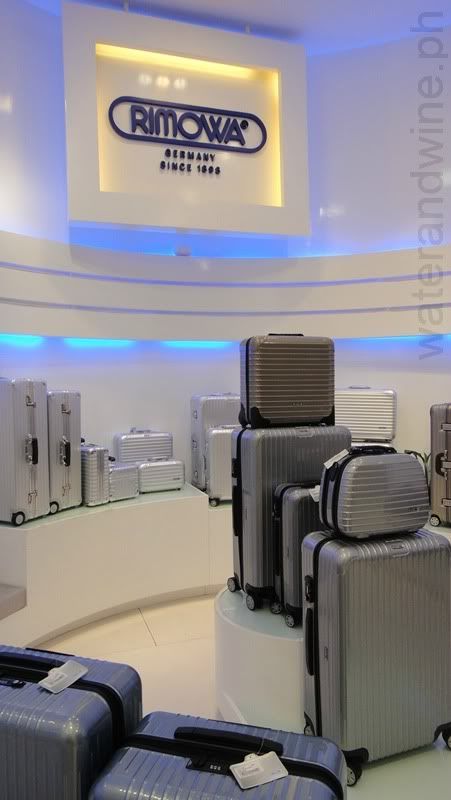 Rimowa Flagship Store, Greenbelt 5
Rimowa is a German brand synonymous to travel. The Cologne company has been around since 1898, known for its perfect craftmanship and precise production. According to

Traveling Fashionista

, it
was recently given the 2010 Product Innovation Award by the Travel Goods Association and was also named Best Luggage by Travel + Leisure Design Awards for 2010.
In Manila, Rimowa is available at Greenbelt 5 (+632-7573048), Powerplant Mall (+632-7283060), Adora Greenbelt (+632-6874809) and Newport Mall (+632-6593558).
The Salsa Air

photo from travelingfashionista.com

The Salsa Air is a newer and even lighter (by 26%) version of the previous Salsa series that are already half the weight of an average suitcase. It is apparently very sturdy as it is made of polycarbonate (same material used in airplane windows), and its lining is as light and tough as the parachute silk.
They come in four sizes - 52, 63, 70, and 77. The smallest one weighs only 2.4kg and the biggest weighs 3.7kg (think: more room for shopping). They come in four fashiony colors - Ultra Violet, Inca Gold, Aquamarine, and Navy Blue.
The Problem
Getting the Rimowas didn't go smoothly as planned. We went to the Greenbelt flagship branch only to find out they only have one piece left - the smallest size wheeled carry-on, which we don't need. We want the check-in luggage!! We need two size 70s so we asked them to call the other branches to check their stock and guess what? The whole effin country only had one size 70 left in Adora (thank God it's just an escalator away from the flagship store). Horrors! Fortunately, they have a couple of size 77s left in Adora, so Macy decided she'll just get the bigger size. Everything's settled, hooray!
NOT.
As we were about to pay, the sales person mentioned something about the size 77 as 'acceptable by most airlines'. We were like Huh!? Why 'most' and not all??! Apparently, the 77 is considered as oversized baggage. It exceeds the allowable linear dimensions by 2 inches! The sales person kept on assuring us that it's okay and that it won't be a problem especially if we fly First Class. Hello!!!! Remember we didn't want to buy Rimowas at first because we don't even fly Biznez!!! She added that we can also opt to just pay for the Oversized Baggage charge (ka-ching) in case we have to. Another Heeeeellllloooo!!! We're scared of baggage charges!
We spent our good 30 minutes deciding whether Macy should still go for the 77 in violet or settle for the 70 in a different color a.k.a. boring color (gold, blue, bleh!). After getting back to our senses, we realized it's a no brainer. Get the 77 and just pay for the charges if we have to! What's important is that Macy's luggage is violet. That's all that matters. May this blog entry also serve as a contract that in case there is a need for Macy to pay baggage charges, Karol willingly offers to split the bill.
Now we can look like Elizabeth Hurley...
...in economy. Minus the taga-buhat.