As soon as we arrived Bali, we told our guide about how interested we are in meeting Elizabeth Gilbert's palm-reader, Ketut, in the movie Eat Pray Love. He laughed (together with the driver), and we didn't know why. It's probably because all tourists in Bali now considers Mr. Liyer as a tourist attraction.
We found out later on that most of the locals believe that Ketut Liyer's healing powers have disappeared after his Hollywood fame. According to them, his healing spirit slowly vanished when he started charging the people for his readings. Yes, 250,000 rupiahs or roughly US$30 per person for one sitting.
He also has the reputation of giving the same prediction to his clients, and they said it's because his English is very limited so he tends to say the same things.
We told our guide that it's okay because we didn't want our palms to be read anyways, and that we just wanted to see him and observe him read other people's palms. Our guide said "Okay, let me call him first to check if there are plenty of people today." Wow, they have each other's numbers. After he made a phone call using his Blackberry (we wonder if they BBM each other too), our guide said we can go. He added that it's always better to call him first before making a visit because on some afternoons, he rests as he is already very old.
In a few minutes, we found ourselves in front of Ketut Liyer's house in Ubud.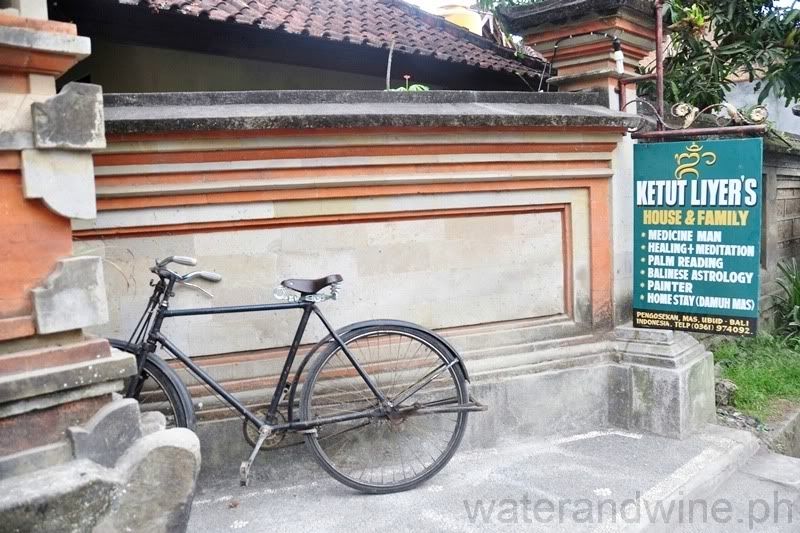 Beside Ketut's house is a clinic owned by his son, a medical doctor.
The gate to his house is very typical in Bali.
Upon entering the gate, a small pathway will lead you to where they receive their guests.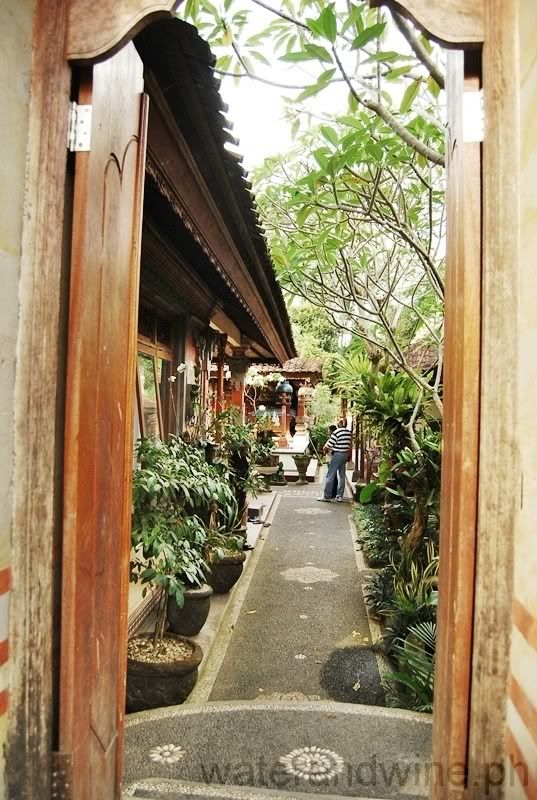 At the left side of the pathway is his main house. It's actually pretty. He must have had it renovated after all his earnings after the movie. At the end is what seems to be a temple.
When you turn left, you will finally see where he holds his palm readings.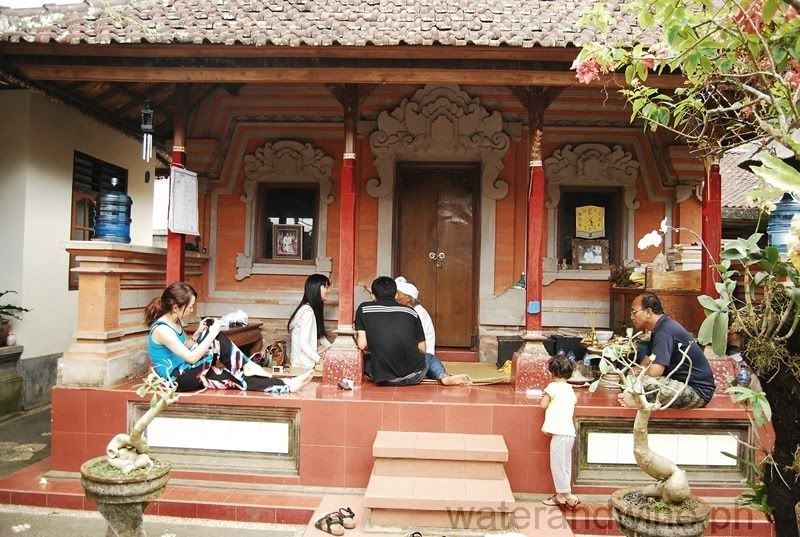 You can see Ketut's son, who seemed to be the one in charge of 'handling' the operations, sitting on one side, and his granddaughter running around.
When we got there, Ketut was giving readings to a couple and there were a few more groups waiting for their turn.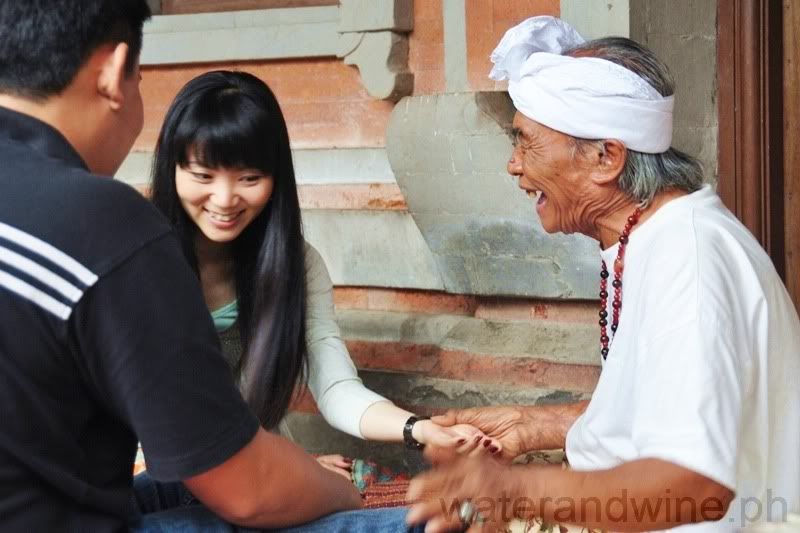 Now serving customer number 22.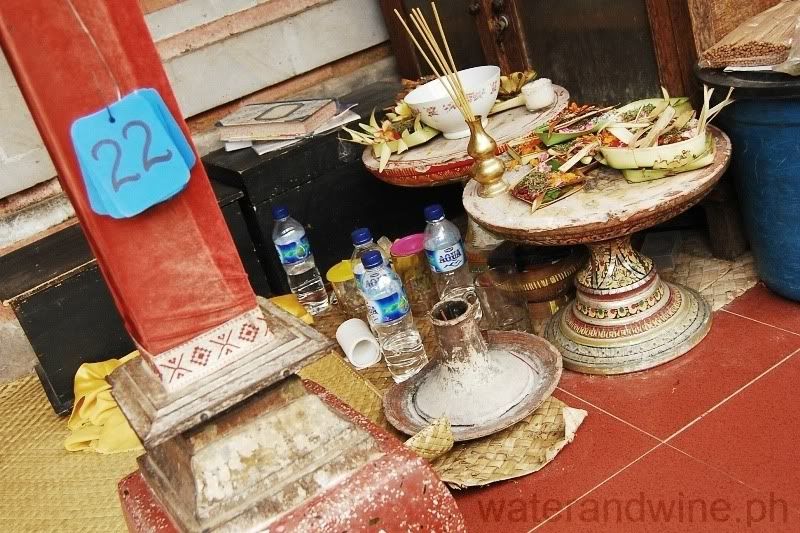 With all honesty, Ketut seems to be a nice, jolly person. His son was really nice to us too, even though we weren't having our palms read. He said we can wait for Ketut to finish his session with the couple so we can have a photo with his father, but we were kinda in a hurry because we had a few more places to see that afternoon. So instead, we had our photo taken while Ketut was having a session.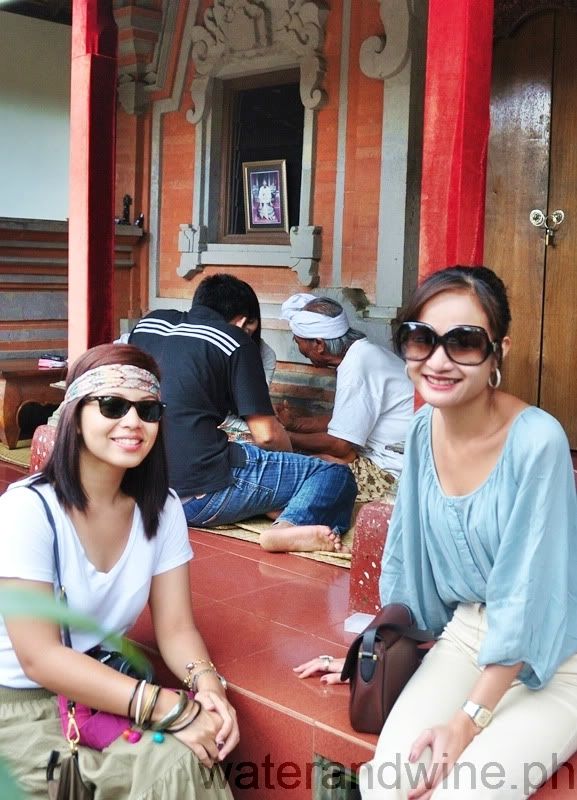 We thanked his son for allowing us to visit their home, said goodbye, and before we left he handed us his father's business card. And then we had one last photo of us by the gate.
Oh and just a trivia... Ketut owns an ab roller.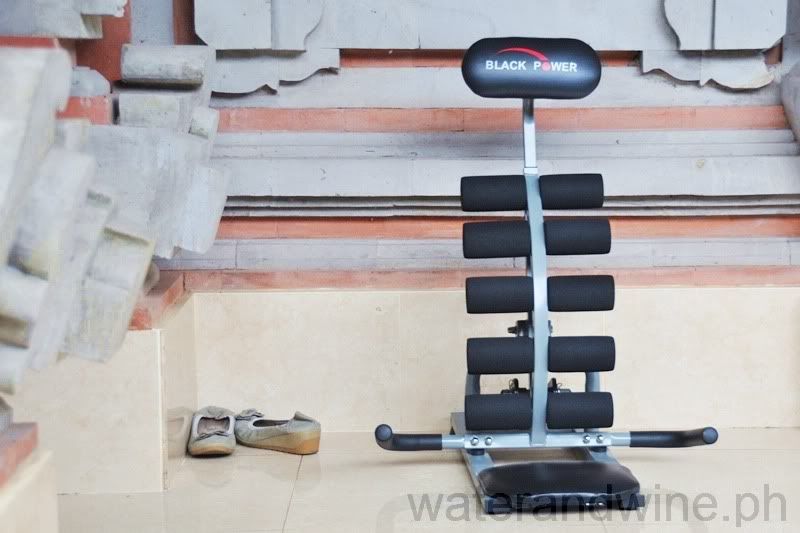 See you later alligator. =)
Ketut Liyer
Pengosekan, Mas,
Ubud-Bali, Indonesia
+62 361 974092