Here's a short video during our Dubai Desert Safari's dune bashing.
neat and tidy-turned-wangsta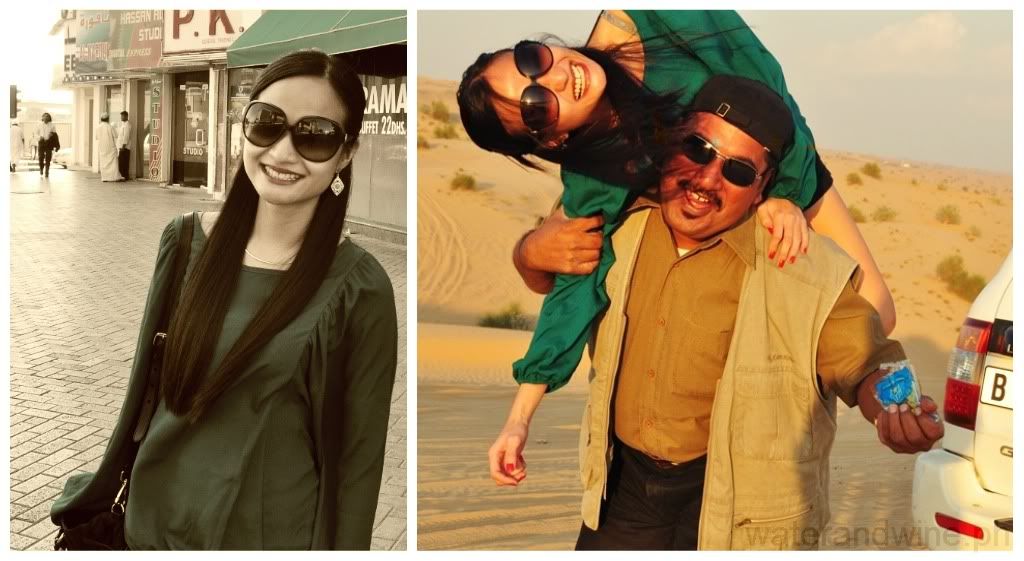 prim and proper-turned-disaster
We booked the tour by phone in the morning, and were picked up at around 3:30PM in our hotel that same day. We thought a coaster or a coach will take us to the desert together with the other tourists before transferring to a 4x4, but no... We were picked up by the very same 4x4, a Toyota Landcruiser, that we used for the dune bashing. Basically, you hop on the SUV, drive past the city to the desert, and go straight to the adventure.
The SUV looked safe enough for us. A roll bar/roll cage was installed inside the car to protect us passengers from getting squished in case the 4x4 rolls over.
If there was something in the car that scared us, it was the furry friends of our driver Nur.
Our driver Nur is really fun. We hit it off instantly as soon as we met him. You can hear him say "I love Philippines" on the video, but when we asked him if he's been to the Philippines, he said... "uhmmmmm NO. HAHAHAHAH. I was just lying!!!".
We stopped by a station to fill up our tank, and this is when we realized how much cheaper gasoline is in the Middle East. A liter of gas is only 1.7 dirhams, or roughly 19 Philippine pesos. If you come to think of it, it is cheaper than distilled water.
We went straight to the dunes and our driver started showing off his professional driving skillzzzz. He maneuvered the car up and down the dunes calmly and effortlessly while we were shouting our hearts out as if we're being murdered. Nur seemed to get some sort of satisfaction from hearing us scream, as he was laughing the whole time. The drops are scarier than a roller coaster ride where everything is pre-calculated. In dune bashing, one mistake from Nur is all it takes. Fortunately, we didn't get stuck in sand, and the SUV didn't roll over. We're alive! We made a short stop in the middle of the desert to rest and take some photos.
We guess it sounds funny to him and he kept saying it the wholeeee friggin' time. Haha. Moving on...
We took off our sandals and played in the sand barefoot. We went running around as if we're toddlers in a playground.
The sand, the wind, our sweat, and our excitement all contributed into making us look flithy, muddy, sloppy.
Nur is definitely one huge contribution to our day full of craziness. He would carry us on his back, and toss us around as if we're toys. Haha.
And as a finale of our temporary psychosis, Karol jumped off the roof of our SUV and Macy did some gaga yoga poses.
If ever you're in Dubai, by all means, DO NOT miss the Desert Safari. We'll blog next about the 2nd part of our Dubai Desert Safari experience - at the desert camp!
Tel No +971 4 3372010