We are not gadget freaks. We don't own ipads, blackberries, or any state-of-the-art, new-age, top-of-the-line gizmos. We don't get bothered if a v2.0 of our v1.0 will be launched. We don't get troubled in upgrading to whatever is the newest model. We buy only those that we need, and we replace them only when they get broken.
To say it simply, we are not techie.
We won't deny it though that there are some gadgets we can't live without, particularly when traveling.
So now we present to you... the kind of gadgets we, untechies, own.
But, don't you wonder how we choose what gadgets to buy, when we don't know much about them? Plain and simple! We buy whatever comes in Pink!! HEHE! Really, carrying these heavy metal objects is already a pain in the a**. It makes us feel less burdened if they at least look preettyyyyy,
Karol and Macy in California
We always bring a laptop with us. We cannot go anywhere without one! We need it for storing photos, for using the internet...uhm, we're sure you know all that. For longer trips, we make sure that both of us bring our own laptops so that in case one gets broken, we'd still have a backup. (We can't troubleshoot, remember?) Imagine how wide our smiles were when we saw this Sony Vaio pink laptop with snakeskin texture.
at the Las Vegas Strip
Even though we use DSLRs most of the time, we still carry around digicams with us. Whenever it's just the two of us traveling, we usually ask random strangers to take our photos (yes we do that haha), and it's kinda easier to make them use the digicam. Who cares about megapixels when it's pink.
For overnight and 3 or 4-day trips, we just bring a much smaller netbook instead of an adult laptop. We also always bring a USB Card Reader even if our laptops already have memory card slots. It's better to be safe than sorry! Padded laptop sleeves to protect our treasured bestfriend is a must. Okay here's one trivia. Karol rarely hand-carries her laptop. She puts it in her check-in luggage, and so far, it never got broken.
Our Nintendo DS keeps us entertained during flights. We are Cooking Mama addicts and we are "Terrrriffic" in that game, "even better than Mama"! Okay honestly we can live WITHOUT these, but they come in pink so we thought we need them.
Don't tell us you don't consider these as gadgets!!! They are the most used and abused of all. Most hotels are equipped with their own hair dryer but we still bring our own, as those provided by hotels are not powerful enough that it will take 2 hours before you get your hair to dry. To be honest, a lot of them just feels like a child breathing on your hair. The hair iron is the secret in keeping the ends of our hair unruly! Macy is the one usually assigned to bring a hair dryer while Karol is the one in-charge of bringing the hair iron. Yes, we just share to save luggage space.
Believe it or not, we are an organized duo. Wherever we go, we always bring all sorts of adapters. The purple socket lets us use any kind of plug. We usually attach it to the pink adapter, which gives us 3 slots instead of just one. This becomes handy when we go back to the hotel at night and we need to charge our phones, cameras, and laptops all at the same time. The Omni travel adapter is a set of adapters in one pouch that you can plug into any kind of socket that exists in our planet.
We can survive without Ipods but we bring one anyway. This saves us from wailing babies on the plane, long boring train rides, or when the hotel guests in the room next to us are deafening.
Now what do we do if some extremely vital gadgets do not come in pink, purple, or any yummy color?
1. Get a cute case to hide its dullness.
Allow us to defend ourselves. No we did not buy our iphones full price. We got them from Globe Telecom for free (yknow, contract renewal/plan application thingie). Untechies will never spend so much for a phone. Moving on... we don't understand why Apple can produce pink ipods but cannot produce pink iphones. Thank goodness we saw these silicone cases from Fendi. Priced at HK$580, they cost just a little more than those
seriously boring
cases being sold in Apple stores. These are made of silicone too, really functional and not just pa-cute.
2. Accessorize!
We bought our SLRs before Pentax came out with their
pink DSLR
, so now we're stuck with two big black boxes. We've been desperately looking for girly straps, and finding them isn't easy! Karol got hers from
Coucou Bebe
, available in City Super Hong Kong while Macy's Renurap strap cover is from
iCode
.
3. Crystallize!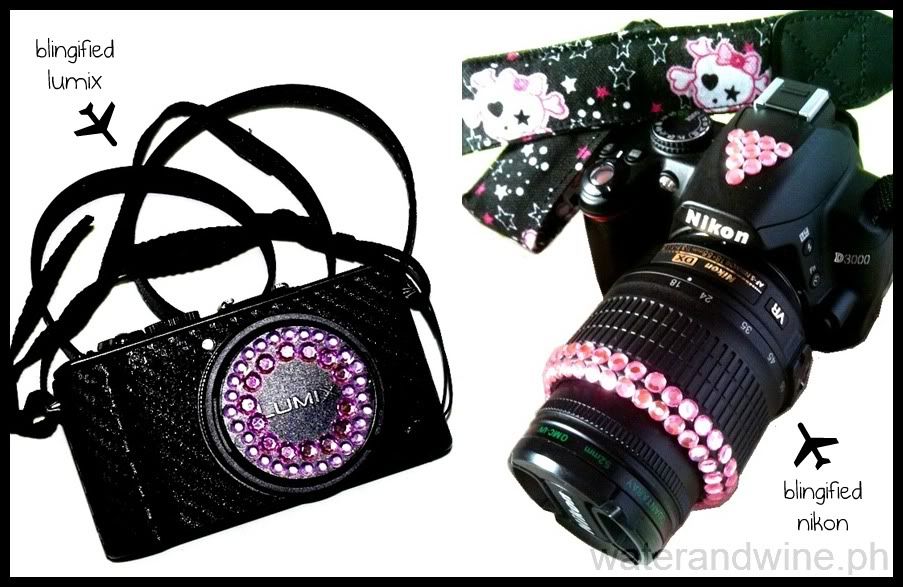 We get all sorts of reactions from our bling-ed cameras. Some stare, some laugh, some get shocked with disbelief, a few others find it cute. Let's just say... we're among those who find it cute. Haha. These easy-to-apply crystals are from CD-R King. They have it in different colors and sizes. We know it's tacky but we still like it.
4. Stick 'em up!
We always always bring our external hard drive (nicely decorated with shimmery Lowndown stickers) to back up our travel photos

in our laptop. And we do backup everyday. Anything can happen, right? The laptop can crash, get stolen, etc. We also use this to copy each other's photos.

It also won't hurt to bring an old phone (G-Masked to the max) as a spare, particularly when going to places where cellphone shops are scarce... unless you're the type who can live without a phone. In our case, we have to constantly inform our parents that we're still alive.