First of all, I'm not a foodie. That's why I'm not so sure if you should listen to everything I'm gonna say here. Haha.
For my recent Vietnam trip, our only goal was... to eat. We didn't have any touristy activity planned, except for a short visit to the Cu Chi Tunnels because I wanted to try firing an M16 rifle (Macy and I only tried the AK47 last year).
For me, food in Vietnam all taste the same no matter where you eat them... EVERYTHING IS JUST SO GOOD. Wherever you choose to eat, the ingredients are always fresh and they all end up yummeeh in the tummeeeh!
When Macy and I were in Saigon last year, we bought fresh spring rolls from this street vendor and it tasted just as good as the ones from a fine dining restaurant.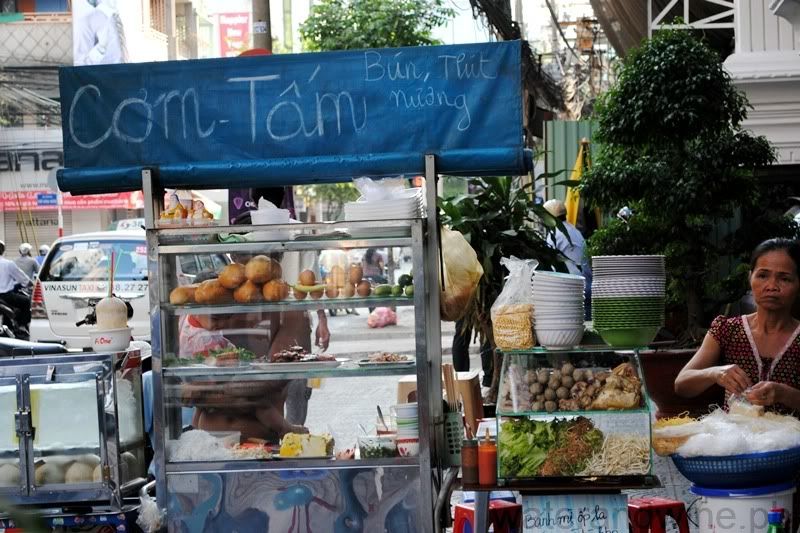 We were not sure though if it comes with free Hepa and LBM. Thank God we have strong stomachs. (And actually even if it came with free Hepa and LBM, we'd still eat it. It's worth it!!!)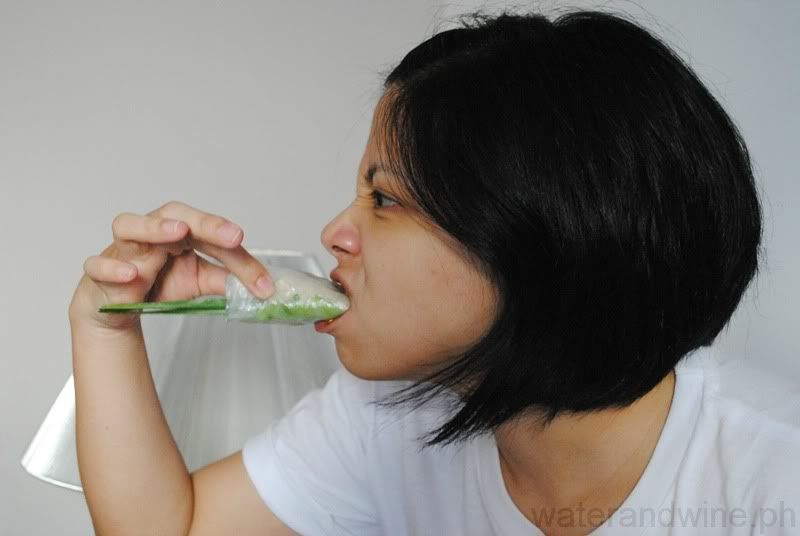 Now how are you going to decide where to eat in Saigon if the food taste the same everywhere anyway? Well, I think it all depends on your personal preference. You can say "Why eat in high-end restaurants when I can have the same good food for a cheaper price at Ben Thanh Market", or "Why sweat eating at Ben Thanh Market if I can just shell out a few more bucks and eat that same good food comfortably in a restaurant". Totally up to you!
Here are some dining choices you might want to try next time you're in Saigon. Each one has a different ambiance, and can give you different dining experiences!
1. Lemongrass Restaurant
4 Nguyen Thiep St., Dist. 1
Tel: +848 8220496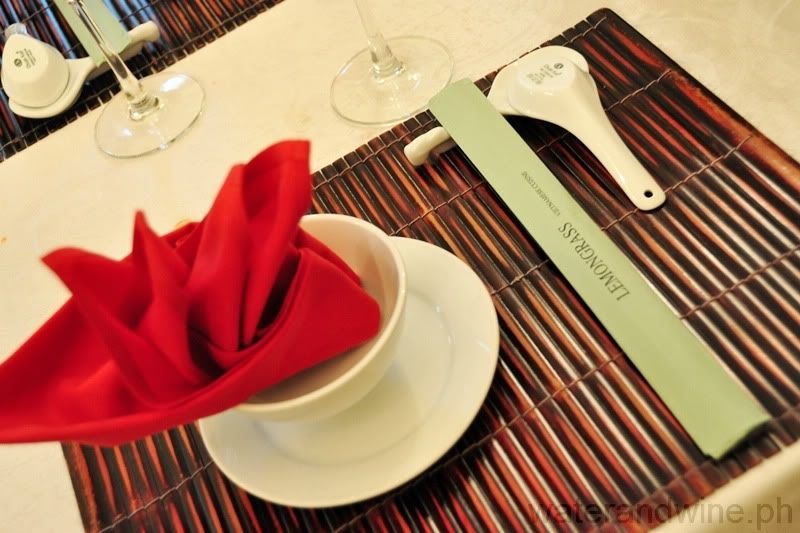 This small restaurant is quite popular for tourists and often mentioned in travel guides. The interior isn't really what I would call romantic, but it's cozy.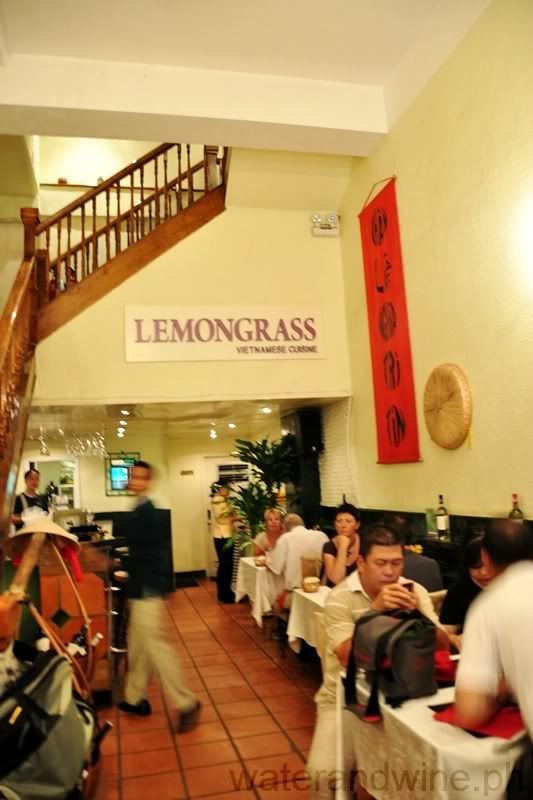 Food is relatively expensive compared to other restaurants in Saigon, but still affordable. Most of the main courses are priced around 150,000-200,000VND or US$7-10. Serving size isn't really generous, good for one to two, max.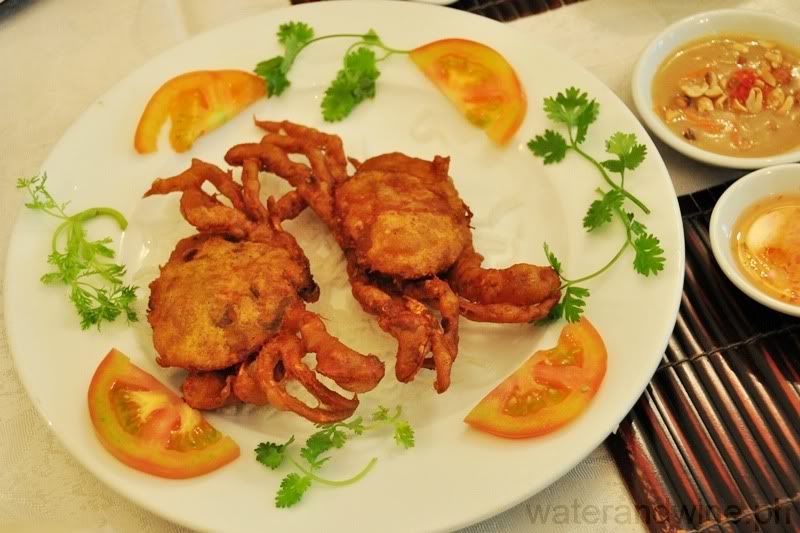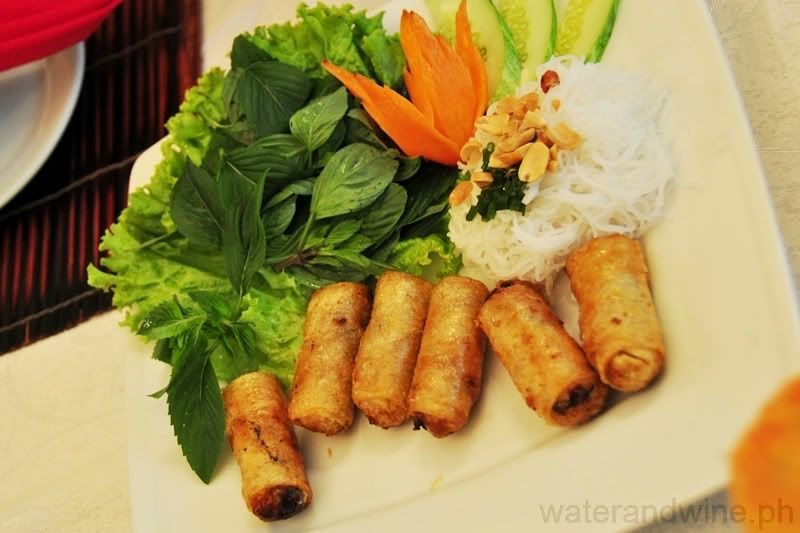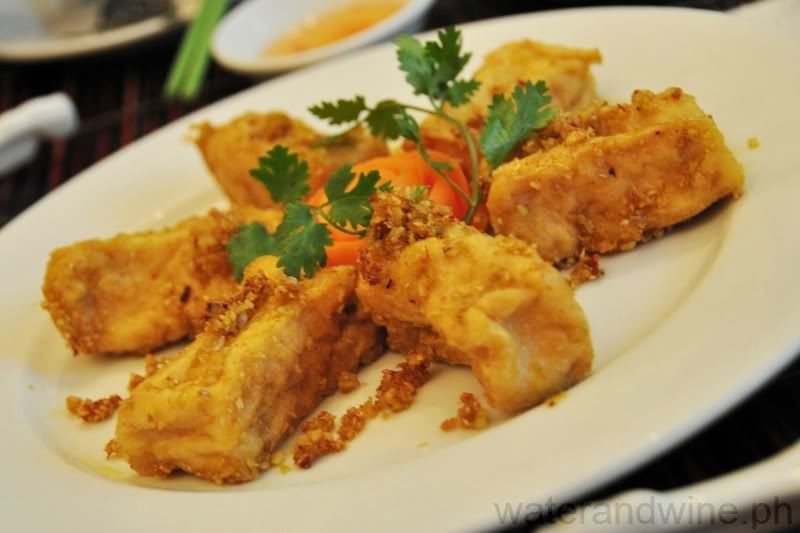 Their coconut rice is amazing, because well, it really does taste like coconut. Haha.
Their fresh coconut juice is still... just fresh coconut juice. But I like it because it has
payong
. Macy and I love drinks with
payong
!!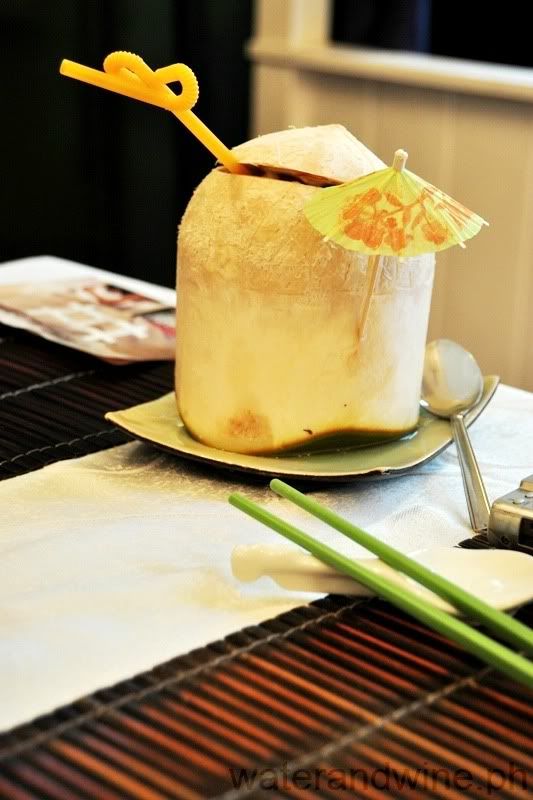 The only dish we ordered that costs more than their usual is the chili lobster. We got tempted because we saw fresh lobsters being delivered at the restaurant.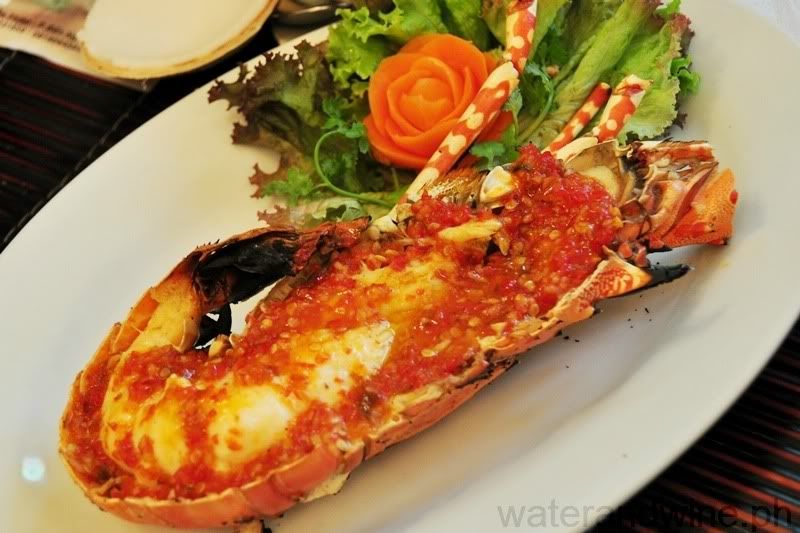 2. Vietnam House
93-95 Dong Khoi St., Dist. 1
Tel: +848 3829 1623
http://www.vietnamhousesaigon.com
Vietnam House is actually a restored colonial house.
Its claim to fame is that a lot of famous world leaders have eaten here, such as US President Bush and our very own President Cory Aquino.
The restaurant has also been featured countless of times and has received awards.
The restaurant, even during lunch time, gives a romantic vibe. The place is dimly lit and tables are spaced far apart.
Food, serving size, and price range is similar to Lemongrass. You can view their menu
here
.
If I can only try one restaurant and I have to choose between Lemongrass and Vietnam House, I'd go for Vietnam House-- for the bragging rights. Hahaha. "I ate where presidents eat in Vietnam, Hah!!"
3. Hai Lua at Ben Thanh Market
This place is open from 7PM onwards. They serve all sorts of fresh seafood, and everything is cooked in an open kitchen.
Expect the place to be packed, and it can take some time for you to get a table. You might be rubbing elbows with other diners too, and I meant that literally. If you get seated near the grill, expect for the smell of the food sticking to your clothes.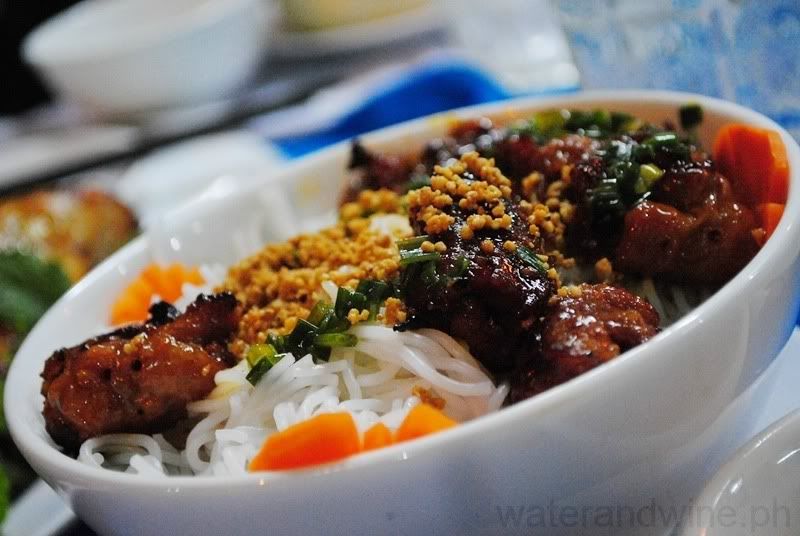 If you ask me, eating in Ben Thanh market is a good experience! Even if you find the place too uncomfortable, try it at least once during your stay in Saigon!
4. Cung Dinh (Royal Court) Restaurant at the Rex Hotel
148-150 Pasteur St. Dist 1
Tel: +848 8292185
Food comes out at 300,000VND / US$15 per person on the average. Expensive by Vietnamese standards, but still affordable considering you're in a 5-star hotel. Imagine, the price of eating at a fine-dining restaurant in Vietnam is just like eating at Cibo in Rockwell! Unless you're a human food shredder, serving size is ample too!
Saigon Port, 5 Nguyen Tat Thanh Street, Dist. 4
Tel: +848 3910 5560
http://www.bonsaicruise.com.vn
Why not spend your dinner cruising the Saigon River? There are lots of cruise operators in Ho Chi Minh but we were told that Bonsai River Cruise is the best. They serve buffet dinner while most others serve a la carte. The boat capacity is also limited to a little over a hundred, while the others accommodate much more.
Most of the other cruises dock on a different port. Bonsai River cruise, meanwhile, docks at the Saigon Port with the cruise ships.
We boarded at 6:45 and while waiting, we were served drinks and canapes.
They assign one server per table, so the service is excellent. They change your plates and clear your table all the time!
The boat sailed at 7PM and as soon as it did, performers started entertaining the guests with traditional Vietnamese music and dance.
The cruise is definitely a good way of having a good view of Saigon.
The cruise ended at 9:30 PM and each of us were handed a souvenir for free.
Bonsai River Cruise is US$36 per person. We booked by phone and in the morning the next day, someone went over to our hotel to pick up our payments and give us the tickets. Everything is already included. It comes with a free head/neck/shoulder massage too! The only thing that you have to pay for separately are the drinks, and the souvenir photo that they sell at 100,000VND / US$6 (only if you want it!).
6. Xu Restaurant Lounge
75 Hai Ba Trung, Dist.1
Tel: +848 3824 8468
http://xusaigon.com
Xu Restaurant Lounge is on the 2nd level of an old soviet style building, which also houses Xu Lounge on the ground level. The place is perfect for dinner and after-dinner drinks. I won't really recommend this place if you have kids with you.
Xu has been mentioned in a lot of publications such as the Wall Street Journal and Travel+Leisure. I'm not an expert in this field, but it seems to me that they have an extensive list of drinks.
It's interesting how they present the salt and pepper.
Main course is not for sharing, priced from 300,000-350,000VND. This lemongrass skewered seabass, for example, is priced at 300,000VND.
I like how they imposed on the menu that this lamb tenderloin (350,000VND) is to be cooked medium. They probably don't want to waste good meat by having people requesting for it to be cooked well-done. Hehe.
The chili prawns (not too spicy by the way), priced at 320,000VND blends well with the pomelo and mango.
7. Emporio Armani Caffe
Vincom Center L1-24, M -13, 70-72 Le Than Ton Dong Khoi, Dist. 1