I am not going to blog about the popular London attractions like the Westminster Abbey, Tower Bridge, London Eye, The Parliament, The Big Ben, etc. In truth, one can see them all in just a day by getting on a tour bus that goes around the city. As for me I chose the BIG BUS TOURS and they sure got every spot covered.
After... now what? London shouldn't just end there! Like for me I got a few more days to spare and I didn't wanna waste every waking moment doing nothing. Good thing I was still able to maximize my stay in a not so tourist-y way and I very much enjoyed every single minute of it! So allow me to share them with you-- My London Top 7 :) In no particular order..
1. Visit Postman's Park
Parks in London are everywhere, that one might have a difficult time choosing which ones to visit. There is Regent's Park, Grosvenor Square, St. James, Hyde Park and a lot more. In spite of the fact that their parks are beautiful and rich in lush greens, I find them a bit crowded at times- not
kili-kili
-crowded but you know what I mean.
Another thing is that they've got birds of all kinds roaming free. Afraid!
(Read:
falcon in Dubai
and
pigeons in Venice
)
And then I have this issue as to the size of the park. I'm not really keen on huge parks! I don't find them relaxing. I find them exhausting. I remember one sunny afternoon ages ago, Karol and I went to Kensington and Hyde Park just to take a stroll (strolling in a
Luneta
pace). We didn't have any idea how big these parks are that by the time we reached the other end it was night time!
Luckily, I discovered Postman's Park on my way to meet a friend. Still located in Central London near St. Paul's Cathedral, tucked in between buildings, it is the site of former burial grounds. It's not eerie at all even if there weren't many people visiting the park. I remember there were only 3 of us. I saw a squirrel and a few birds so YEY to my ideal park! Haha!
Most importantly, Postman's Park is home to George Frederic Watts' Memorial to Heroic Self Sacrifice. It is a memorial to ordinary people who sacrificed their lives saving others. Memorials are in the form of tiled tablets which I think are beautiful.
And the memorial on the park bench is fascinating too!
2. Hire a Bike
I love biking ever since I was a kid that I don't know how many bikes I've owned so far. But I'm neither the competitive-cycling girl nor the mountain-biking type... I'm the leisure biker who owns a pink vintage-looking bike with a basket in front. Imagine my excitement when I saw these blue bikes (just like how we felt when we saw these
designer bicycles
)!
You can hire a bike for a couple of hours and return it after at any Barclays Cycle Hire post, which can be found practically everywhere. Access fee for 24 hours is £1, usage charge is £1 for 1 hour. Additional charges apply for additional hours of course.
I took advantage of the sunny weather (which Brits don't get that often) one Thursday afternoon and biked in the area around Hyde Park and Knightsbridge. Woohooo! I felt like a local haha! I must say exploring a foreign land by bike is so much fun! And I got to burn those Fish and Chips as well!
3. Spend Some Quality Time at Liberty of London
No one would ever miss this cool Tudorbethan structure along Great Marlborough Street.
Started in 1875 by Arthur Lasenby Liberty, Liberty Department Store is one of the go-to places for luxury shopping in London. Aside from housing big labels such as Vivienne Westwood, Lulu Guiness and Alexander McQueen, Liberty is actually famous for their printed fabrics. Remember Kamiseta launched their collaboration with Liberty of London summer of last year? That proves how popular and unique Liberty fabrics are, and they're pricey too at £21 per yard. Here's a sewing kit I bought made of Liberty fabric :)
Aside from that, I am just completely in awe with the interior of the department store. Very mediaeval, don't you think?
4. Make a Stop at Harrods' Food Hall
Make your way to the Food Hall of this upscale department store and you'll be transported to a different food world! Luxurious and opulent, excessive yet classy, no wonder it has been nominated for a Luxist Award in the Best Gourmet Grocer/Food Hall category.
One need not buy or eat anything to visit. Taking pictures is simply a must! The restaurant part is divided into different sections. There is the seafood section, the rotisserie, the caviar and dim-sum section, the oyster & champagne bar, and sushi section among others.
Here I tried their grilled Indonesian Tiger Prawns with a serving of chips on the side. Oh my Lord! It's really tasty and fresh that I don't regret paying quite a hefty price for it. The chips may look normal but it tasted sooo unique and delish! (Pardon the lonely fry in the middle of the prawns. I was about to take a bite when I realized that I should be taking photos first haha!)
Of course, expect good service! It's really an experience! A feast to the eyes as well as the stomach.
Moving on to the other parts of the food hall there are a lot of other delectable items. I'm completely satisfied by just looking!
William Curley chocolates
Nougats
Turkish Delight and Glazed Fruits
British Fudge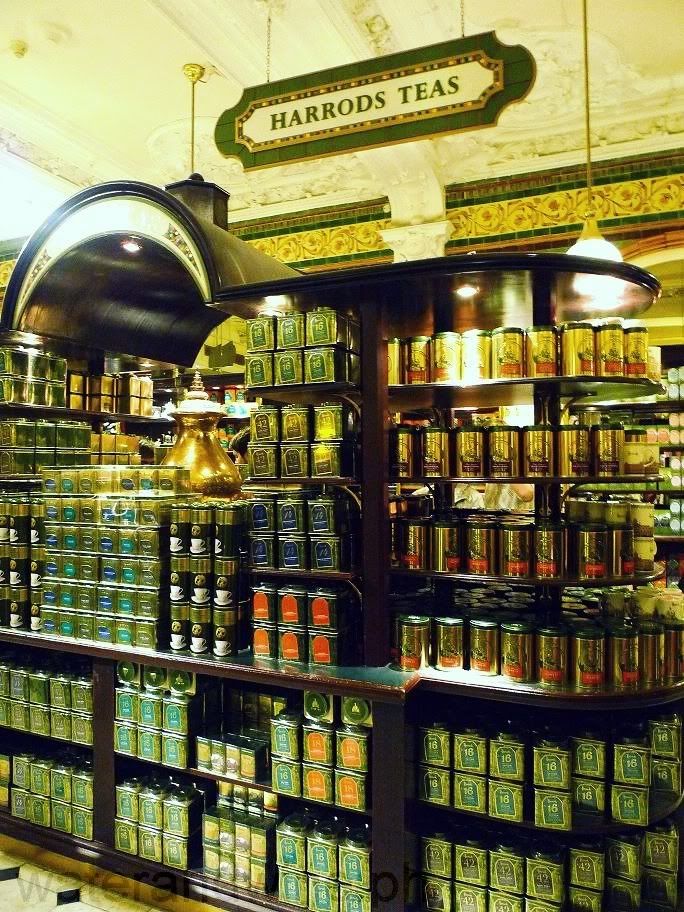 wide selection of Teas
Harrods truffle mushroom
And don't get me started on the staff's chic garb!
5. Make Room for an Afternoon Tea
Afternoon teas are kind of like our
merienda
, only more
maarte
and
soshal
! A tradition since 1830, Afternoon Teas include a pot of tea (loose tea preferred, tea bags are frowned upon) with milk and sugar; sweets, sandwiches, biscuits and scones often served on a tiered stand. It's quite a lot to eat for in-between meals, I know!
Here I am at Dolly's Café' at the lower ground floor of Selfridge's. I love it that they use vintage silverware!
Look! A tea strainer! Haha!
Top tier: Selection of sweets from the Belle Epoque bakery
Middle tier: Plain and fruit scones served with strawberry jam and clotted cream
Bottom tier: Finger sandwiches
Everything is so bloody perfect! Even their English Breakfast tea is irritatingly good! Haha!
If an Afternoon Tea is too much, you can always opt for a Cream Tea instead which consists of a pot of tea, scones, jam and clotted cream. The scones are soooo delightful I went back there twice before I left for Manila! And their clotted cream is just divine I have yet to find it here or maybe learn how to make it. Good luck to me!
So if you're in London and feeling hungry between 2-5PM consider having some tea and scones :
)
Camden High Street on a Sunday
Mr. Bean as tattoo? Seriously?
Giant DMs
People gather to listen to an independent band
Regent's Canal
More people, more shops
Independent designers and artists selling unique jewelry, bags, home stuff and more at the Canal Market
They serve different cuisines as well! Turkish, Indian, Jamaican, Chinese, Spanish among others
Crepe for me!
More shops at Stables Market
Souvenirs galore!
7. Behave like a Kid at the London Zoo
Yes you could, and you shouldn't be ashamed if you get all giddy and excited at the sight of some of our furry little friends because that's exactly how I felt haha! Located in Regent's Park, it is an eleven-minute walk for the Brits (or 30 minutes for me) from Camden Town. According to Wikipedia, "it houses a collection of 755 species of
animals
, with 16,802 individuals". Cool eh? This zoo is so enormous that it has around 18 different areas to see like the Snowdon Aviary, Penguin Beach, the Outback and Giants of the Galapagos among others. Here are some of my favorites :)
Ruppell's Griffon Vulture. Again, AFRAID!
A White-cheeked Gibbon
To the Penguin Beach!
Basking in the sun
Eastern White Pelicans
Llamas and Alpacas
They take some animals out for a walk
A Bactrian camel from Mongolia
Galapagos Giant Tortoise
An Okapi from Congo which is most closely related to the giraffes and not the zebras.
It's good that they can move around
And a Mindanao Bleeding Heart Dove which can be found in Basilan, Dinagat, Bohol and Samar. It's actually endangered!
I know I missed out on a lot of things for there is still so much to see and do in London. But, one thing is for sure, I will never ever get tired of this amazing old city :)
- Dr. Samuel Johnson