Last year, we joined the Costa Luminosa cruise and one of our 3 ports of call was Palma de Mallorca in Spain.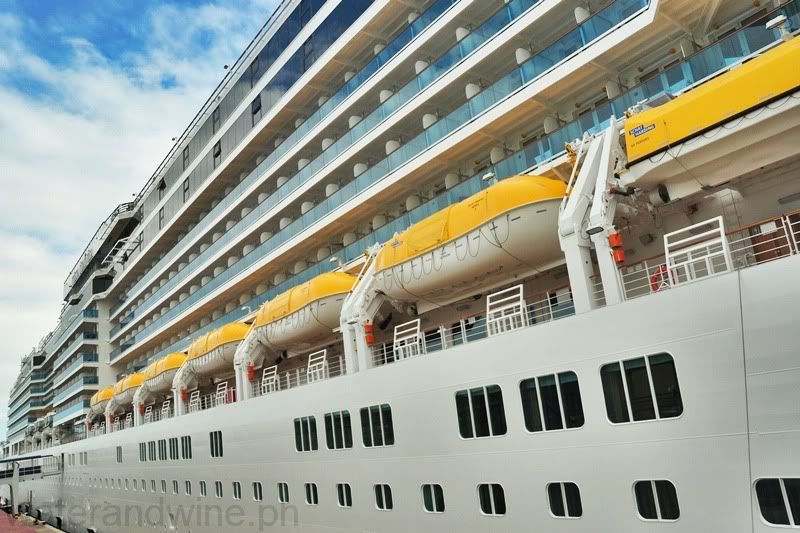 Costa Luminosa
Palma is in the island of Majorca, which is one of the Balearic islands in the Mediterranean Sea. Macy was in charge of the itinerary and this is what she came up with (we better not translate it into English. Haha *wink*).
our itinerary, thanks to Macy!
With only 9 hours in the city, including embarkation and disembarkation from the cruise ship, this was how we spent our day:
We decided to take a cab from the cruise port instead of riding the Hop-on-Hop-off Bus (which is also a good option if you really really want to maximize your stay in Palma).
Our first stop was the gothic Cathedral La Seu.
Its construction began in 1229 but was finished only in 1601.
There were horse-drawn carriages that you can rent to go around the area.
There are only a few places in the world where straight men wear pastel green skinnies and neon green shoes. Spain is on the list!
First realization of the day: it was really windy! Karol had a hard time managing her skirt, hair and scarf all at the same time. HAHA.
And then... it started to rain. We hurriedly went inside the souvenir shops surrounding the cathedral and spent our time indoors while waiting for the rain to stop.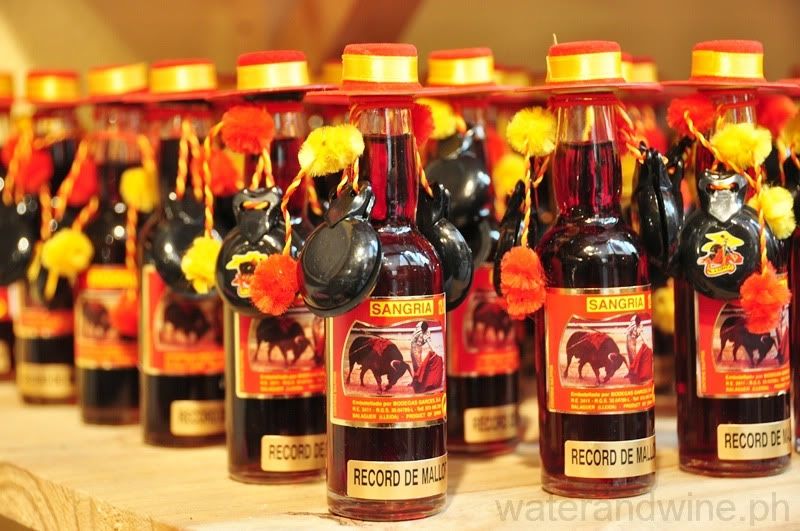 Spanish Sangrias
We really had no intention of buying anything but after minutes of looking around, we both ended up holding Spanish hand fans to give out as pasalubongs.
We saw a sign that says Museo de Munecas Antiguas. We had no idea what it was, but decided to follow the sign that leads to it. Anyway, it was still raining and we needed shelter! We found out later on that it's a doll museum. We were excited to go inside, hoping to see cute little dolls.
As it turns out, the dolls are not cute. Scary is more like it! Haha. Look at this giant chackay doll, for example.
Here's another scary doll. It looked so real! The dolls look like they're going to come to life anytime!
We went outside the museum and ughh it was still raining a bit. We intentionally left our umbrellas because it was sunny when we left the cruise ship and thought we won't be needing it. Wrong! We just stood in one of the sidewalks and waited for the rain to die down a little, while Macy ate her bar of Twix. Here's a short video clip so you can see how windy it was that day! Don't miss the guy's face when Macy bragged about her snack. HAHA.
We also took some photos while waiting on that spot. Thank God every corner of palma is picture-worthy.
We then headed to Palacio Real de Almudaina. It's time we introduce to you our wind-up pet penguin, Chuppy. We don't have decent photos at the Palace but Chuppy does. Haha.
We got busy acting foolish (in other words... acting normal) in the fountains outside the palace gates. Including Chuppy, of course.
While Karol was taking a photo of Macy fixing her scarf (HAHA)...
...someone offered to take a photo of us together. Yay!!! We didn't bring our tripod so this is actually our one and only photo together in Palma de Mallorca.
At this point, we decided to screw the itinerary and just go wherever the path leads us. Haha.
We saw an internet cafe across the street and we actually contemplated whether or not we should just spend our remaining time checking our emails. Internet connection in the cruise ship is like gold!
It didn't take us a long time to go back to our senses. Using the internet isn't really a good way of spending an afternoon in Palma, is it? Moving on...
We came across this work by Joan Miro, the Monument a la Dona (1972). Macy posed ala-Aiza Seguerra.
The colors of fall were really amazing that day.
And the gates of the Almudaina Palace were just the perfect backdrop.
Not too far from Almudaina, along the Avinguda d'Antoni Maura, is Jardins de s'Hort del Rei, or the s'Hort del Rei Gardens. According to Panoramicearth.com, this little-visited attraction is one of the best-kept secrets of Palma. So happy to discover this place!
We crossed
Avinguda d'Antoni Maura and there, souvenir shops and caffes lined the street.
Perfect. Because it's time we eat our late lunch (late for us Asians, but just the right time for the Spanish). We chose to eat at this restaurant, named after the novel Moby-Dick.
A trip to Spain isn't complete without eating paella! Again, just like when we ate at

La Barraca in Madrid

, we can't tell if this is a good Paella or not. But one thing's for sure, we had the best Gambas we've ever tasted our whole lives.
After lunch, we walked around and most of the shops were closed for Siesta. It seems that siesta time is still widely observed in Palma.
We took advantage of the empty shops and fooled around their signage. We had fun imitating them. HAHA.
We saw this couple having a glass of sangria with straws good for a thousand people. We were so tempted to try it because we think it's cool (HAHA) but we remembered one of Macy's notes in our itinerary (see our itinerary photo above). Do not drink Sangrias because we might get drugged. Paranoid mode on!
We walked towards Passeig des Born, passing by Carrer dels Apuntadors. It has a lot of restaurants and cafes serving tapas.
And finally, we reached Passeig des Born.
It is one of the main shopping streets in Palma, yet you can still feel the siesta vibe. It was so peaceful and quiet when we went. Lovely!
We explored the tiny streets connected to Born Street, and as expected, they're all empty too. Though Macy was still able to do a bit of shopping. Hehe!
From Born, we walked to we-don't-know-where and found ourselves in this beautiful tiny street called Plaça de Frédéric Chopin.
This may not be a cherishable way of ending our day in Palma, but Karol really needed to go to the toilet to pee and we couldn't find any toilets nearby so we just walked to the nearest main road, hailed a cab, and decided to go back to the cruise ship. Hahaha. The harbour of Palma along Avinguda de Gabriel Roca really really really looked like our very own Roxas Boulevard/Manila Bay! Here is a short clip we took from the cab.
Look at how huge our cruise ship is compared to the yachts lining the port.
Toilet for Karol, finally! We reached the port much much earlier than our time of departure.
So, when we saw this photo booth that says "Take home with you the best souvenir photo of Palma", we immediately cramped ourselves inside and dropped a coin. We were expecting a photo booth where you get to choose a nice Palma border, with the date and all that sh*t. Guess we were wrong. Right after the shot, the machine printed the photo and this is what we got.
It looked like a 1x1 photo plastered on a postcard. We wanted a refund! HAHAHA.
Our short day in Palma was really well-spent. Now time to go back to the ship, take a deep sleep, and wake up in another city.
We'll blog next about our 2 other ports of call!